Enertia Engineering Announces the World's First Fully-Integrated Solar Powered Street Light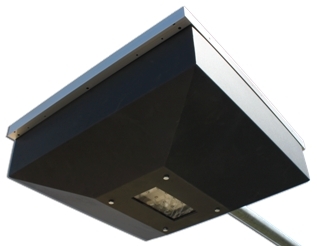 Edmonton, Alberta, August 11, 2010 – Enertia Engineering Ltd., a leading electrical equipment company, is pleased to announce the first commercially available fully-integrated
solar powered street light
called the EnerSolar Street Light. What sets this solar street light apart from all existing technology, is that everything is contained within the light itself, so that no external wiring, mounting or installation is required. To use it, you simply plug the battery in, and attach it to a pole.
Enertia Engineering Ltd. analyzed the core systems of an
LED street light
system and started with a clean slate design to fully optimize the efficiency of component parts and their interactions. By using the latest cutting edge technology for LEDs, controls, and solar power Enertia Engineering has created a highly efficient, compact, solar powered street light that contains everything required for fully autonomous use.
The EnerSolar street light is perfect for third-world countries where electricity is either unreliable or unavailable. It provides 3 nights of autonomous light. (ie. 3 full nights of light even if the solar panel didn't charge the battery.) Enertia's
solar powered street lighting
can be used for roads, bridges, parking lots, commercial buildings, substations, and almost any outdoor application where light is wanted, but electricity isn't available.
The simple installation makes it straightforward for almost anyone to apply EnerSolar street lights. There is no external battery box or solar panel. Everything is contained within the lighthead itself; simply use the universal mount to attach the light to any standard lighting pole, and you have instant lighting. Because there is no connection to the electrical grid, the installation is safer and easier than regular street lights.
"We have come up with the ultimate lighting tool. Its reliable, easy-to-install, usable wherever there isn't electricity, and simple." Says Stuart Whitbread, the Sales Manager and a Principal of Enertia Engineering Ltd.
"The irony is, that as a Canadian company, this technology isn't meant for Canada. Because it contains a battery and solar panel, this technology is best suited for equatorial, tropical and sub-tropical applications where the temperature doesn't drop below -10C very often," Says Murray Steen, the R&D Manager and a Principal of Enertia Engineering Ltd.
Learn more about Solar Powered Street Lights at EnertiaEngineering.com.
Company Background:
Enertia Engineering Ltd. is a Canadian-based
electrical engineering consulting
and electrical equipment manufacturing firm with offices in Alberta and Ontario. Enertia Engineering Ltd. is a key supplier to many of the largest oil & gas, consulting, and field service companies worldwide. Recent product developments have introduced the patented EnerPulsar
Anti-Islanding technology
for connecting small generators to utility electrical grids as well as EnerSolar, the world's first fully-integrated solar powered street light.
Email Enertia Engineering Ltd.