Xcellimark Launches New Website for Florida Payroll that Features Online Payroll Processing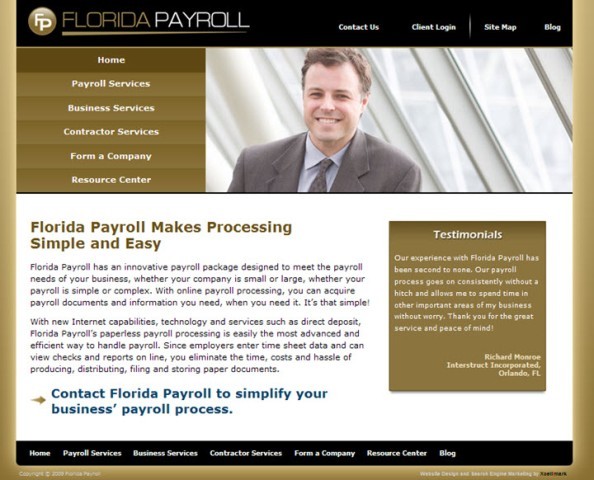 Award-winning web design and Internet marketing firm Xcellimark recently launched a new website for their client Florida Payroll:
www.floridapayroll.com
The new website, which was designed and developed using SEO techniques to allow the site to be found in search engines, includes a redesigned logo and upgraded branding, information on specialized payroll services for Contractors, information on benefits services, a blog to help inform businesses about ongoing payroll and benefit issues that may affect them, and a secure log-in to an online payroll system.
Through the new website, employers can take advantage of Florida Payroll's paperless payroll processing system by easily entering time sheet data online, viewing checks and reports, and adding or updating essential payroll information on their employees. In addition,
Florida Payroll
prepares, submits and guarantees that all tax payments and files are returned on time. Employees also benefit from the new website by being able to securely log-in, view their pay stubs, update their W-4 and contact information, keep track of their vacation and sick time, and view with-holdings such as social security and Medicare.
"Florida Payroll is quickly becoming a leader in online payroll processing. Their website and online system allows their clients to conveniently manage all facets of a company's payroll activities quickly and easily. This significantly reduces errors and costs associated with processing payroll. The new website will serve both current and potential clients in offering one of the best online payroll processing services available to businesses in the market today," said Scott Lambert, President of Xcellimark.
The new Florida Payroll website gives employers and employees access to everything they need to process and manage payroll online. From virtually anywhere in the world, employers can enter payroll into the web portal and employees can access their payroll information, making the online payroll processing feature a convenient and invaluable resource.
"Our company is technologically driven so we needed a new website to reflect that. Using our easy, quick payroll processing service online, customers have a one-stop shop for all their payroll needs so they don't have to separately administrate business components," said Richard Hayes, CEO of Florida Payroll. "Another exciting thing in our software development that will streamline the payroll process even more is QuickBooks integration, which almost no one else provides. This essentially automates the entry of payroll into QuickBooks directly from our web portal."
About Xcellimark
Xcellimark is an award-winning Interactive Agency based in Orlando, Florida with clients throughout the US and Canada. Xcellimark specializes in creating and delivering customized strategies to enhance customer growth and branding through proven Internet marketing solutions such as
consulting[/nofollowl] , [nofollow=http://www.xcellimark.com/creative-design.aspx]creative design
,
digital marketing
, and
analytics
. Through their unique approach to Internet marketing, Xcellimark has significantly increased their client's qualified sales inquiries and has helped clients grow their businesses. For more information on how Xcellimark can help you improve your bottom line, contact Scott Lambert at 407-678-3062 or visit
www.xcellimark.com