Underground Printing Opens New Location in Iowa City at 210 Dubuque on the Ped-Mall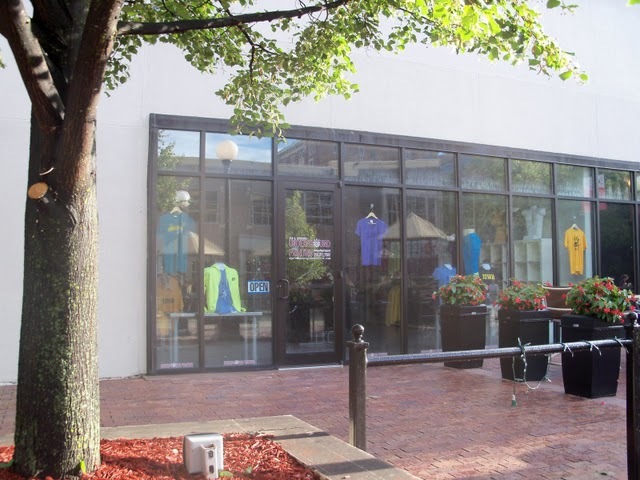 Underground Printing, a custom screenprinted and embroidered apparel company, has recently opened its thirteenth campus location in Iowa City, IA. The new store, located at 210 Dubuque, adjacent to the Sheraton hotel's restaurant, will follow the successful model that the company has developed at its other locations - offering unparalleled customer service, quick turnaround, low prices, and industry-best technology to make getting top-quality custom printed apparel affordable and easy. In addition to their custom printing services, the new Underground Printing store in Iowa City carries a full line of officially licensed Iowa apparel, but with a unique approach that will quickly set the apparel maker apart from the bookstores and other campus apparel providers.
Looking to stand out in a competitive market, Underground Printing will bring a number of unique features to the Iowa apparel market. The company has shirked the conventions of the traditional, boxy bookstore t-shirt, opting for better fits, softer materials, unconventional designs, and brands that appeal to the college market. "We'll be carrying a lot of fitted and hip styles from brands like American Apparel and generally keeping things fresh with short run designs that can be responsive to the climate on campus," said co-owner Ryan Gregg. The company hopes to use this ability to speed product to their shelves in a matter of days to bring a fresh way of thinking about collegiate apparel. "While a few designs will always be classic, we don't think students should still have the same options for designs and styles when they are seniors that they did when they were freshmen," said Gregg.
More than just an Iowa apparel store, Underground Printing also specializes in custom-printed apparel, offering an unparalleled range of customizable options and fast delivery. Customers can use their own design ideas and slogans to create unique, affordable items to commemorate organizations, teams, birthdays, and special events.
In addition to the physical store location, customers will be able to shop online at
www.ugpiowaapparel.com
. Underground Printing co-owner Rishi Narayan remarks, "So many of our customers at other schools have become accustomed to our great products and service while they are on campus, and we wanted to continue to serve them as they become alumni and move out into the world at large." Now Iowa students, fans and grads can pick up great Iowa gear no matter where they are, with the convenience of online shopping.
Underground Printing is located at 210 Dubuque off Market, on the Ped. Mall, between the Sheraton Hotel's restaurant and the Bread Garden Market. The store is open 10 AM - 9PM Monday-Friday and 10 AM-6 PM Saturday and Sunday.
About Underground Printing:
Underground Printing offers custom printed t-shirts and other apparel online and at its thirteen locations to customers of all sizes. All of their custom apparel goods are printed and embroidered in-house at their 35,000 sq foot facility. The company currently has thirteen locations in eight states, including six locations with retail apparel lines and additional stores to come. The company was recently named to the Inc 5000 list of fastest growing companies in America and is currently ranked as the nation's 39th largest printer by volume by Impressions magazine. For more information on Underground Printing, please visit
www.undergroundshirts.com
.
Email Underground Printing