Payday Powers Decision Engine is Super Powered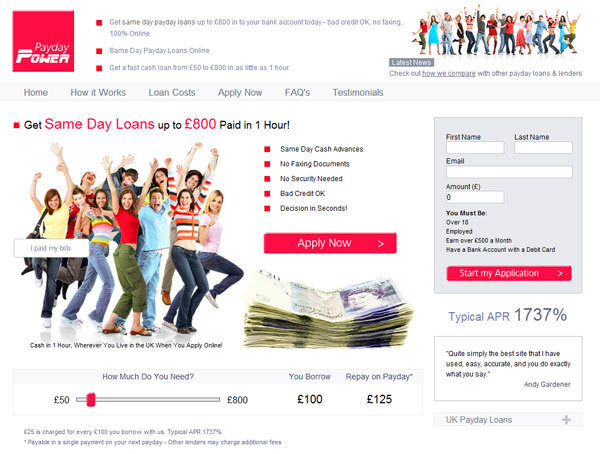 Payday Power
offers same day payday loans to its customers which are often paid in less than 1 hour. Customers need to be UK residents, employed and over 18 years old in order to qualify for a loan between £80 and £800. Payday loans are usually taken out by people who simply need some extra cash to help them out until their next payday arrives.
Michael the Marketing Director says of the latest upgrade that "this is great news for our customers as it gives them an even greater chance of getting the cash they need without any hassle as it is quite common for a customer to be rejected by one lender but accepted by another. At Payday Power, we have listened to our customers and understand the frustration when their application is rejected and so we can automatically 'forward' the application to additional lenders in real time until it gets accepted". Payday Power now has about 80% of online payday lenders 'hooked up' with their system in one form or another and aims to be "the only website someone looking for a payday loan needs to visit to get them the best deal in as short a time as possible – it's a very 'powerful' piece of web technology which is completely free for customers to use".
Affiliates are already benefiting from this powerful upgrade as commissions have already risen and giving their customers all the benefits the Payday Power decision engine. New affiliates can learn more about the advantages of being a
Payday Power Affiliate
here.
People looking for a quick cash loan before payday can
Compare Payday Lenders
through Payday Power or learn more about
Payday Loans
here.