Wix Offers Free eBook on Freemium Model, by Wired Magazine's Chris Anderson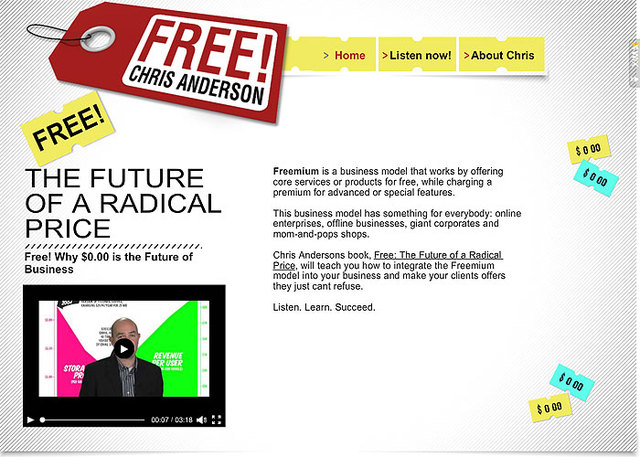 Catch a free, audio version of Chris Anderson's "Free: The Future of a Radical Price" on a website created by Wix.com. Anderson and Wix both promote the Freemium business model.
The Freemium model is a powerful business strategy practiced by many of the most innovative and well-known online companies. Skype, Pandora, Linked In and Flickr, to name a few, all offer their users a core service or product for free while charging a premium for advanced or unique features. Chris Anderson, Wired magazine's editor-in-chief, wrote about this revolutionary business model in his book "Free: The Future of a Radical Price".
Website builder
Wix.com created
www.freemiumbusinessmodel.com
, making this must-read available to all in a user-friendly and free format.
A match made in heaven, Anderson and Wix both promote and participate in the Freemium model. Wix is a start-up company that developed a
free website builder
, for the easy creation of personalized Flash websites.
Small business owners make up a large percentage of Wix.com's userbase, who can learn how to incorporate the Freemium model into their own businesses with the help of Anderson's book.
The Value of Freemium
"Therein lies the paradox of free; people are making lots of money, charging nothing," Anderson states in the Prologue of his book.
Offering a valuable product or service for free is a powerful way to generate a buzz, build a customer base and establish a brand. Freelancers, entrepreneurs and small business owners can all benefit from the Freemium model.
Consisting of a free online platform, Wix offers users the opportunity to create highly customized Flash websites without the need to code.
Free website
hosting is also provided under the Wix domain. To connect to a personal domain free of the Wix URL, users can upgrade to one of Wix' premium packages, each with a different combination of advanced features. The eCommerce package, for example, turns a site into an online shop with a fully-functional shopping cart widget.
About Wix
Wix is based in New York, with offices in Tel Aviv. The company is funded by Mangrove Capital Partners, Bessemer Venture Partners and Benchmark Capital. Over 4.5 million Flash websites have been built with the Wix platform, a number that grows at a rate of half a million new sites each month.