Al Asher and Sons, Inc. delivers the latest innovation in technology for high speed underground cable placing and retrieval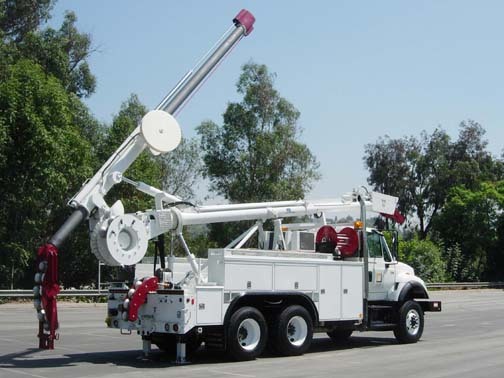 Al Asher and Sons, Inc., located in Los Angeles, California, has delivered the latest innovation in technology for high speed underground cable placing and retrieval to the Southern California Edison Co.
The
OK Champion
Underground Cable Placer/Scrapper uses a 24,000 lb. capacity level wind bed winch that is controlled and monitored with an in-line tension meter, that reads the line pull in pounds and the winch line speed in fractions of feet per minute. All readouts are recorded at the handset of the multi-function radio remote controls and the master control panel.
An optional 25,000 lb. winch capstan is designed for high speed cable retrieval, and is capable of removing, cutting/chopping, and off-loading salvaged or recovered cable up to 4-1/4 inches in diameter into nominal 48 inch pieces at a rate of about 90 feet a minute.
The pulling boom feature allows a small crew to set-up underground pulling operations with minimal or very little rigging to depths of
29 feet below ground level. The telescopic (up/down), articulation, and rotation of the pulling boom allows simple and accurate alignment of the cable to the duct for easy removal of old cable or the installation of new.
The OK Champion Underground Cable Placer/Scrapper is ideal for many utility applications where high speed cable retrieval services can be accomplished with a minimal crew, yet have the capability of pulling in new cable or removing old cable lines. Similar machines have been delivered to many leading Utilities across the United States and Canada, including Arizona Public Service, Detroit Edison, AT&T, and Bell Canada.
About Al Asher and Sons, Inc.
Al Asher & Sons – now in its ninth decade as a family owned and operated business – stocks an inventory of over 250 hard-to-find pre-owned utility aerial
bucket trucks
,
digger derricks
, boom trucks, crew trucks, and specialized equipment from quality manufacturers including Hogg-Davis, OK Champion, Telsta, Pitman, Altec, Versalift, and others.
Specializing in truck and equipment rentals, sales, and service, the family commitment to quality and customer satisfaction remains a cornerstone of Al Asher & Sons to this day.For more information, contact Al Asher and Sons, Inc. at 323-225-2295,
sales@alasher.com
, or view our website at
ww.alasher.com
.
Email Al Asher and Sons, Inc.