New Jersey Blues Art Exhibit by Harrington and Treichler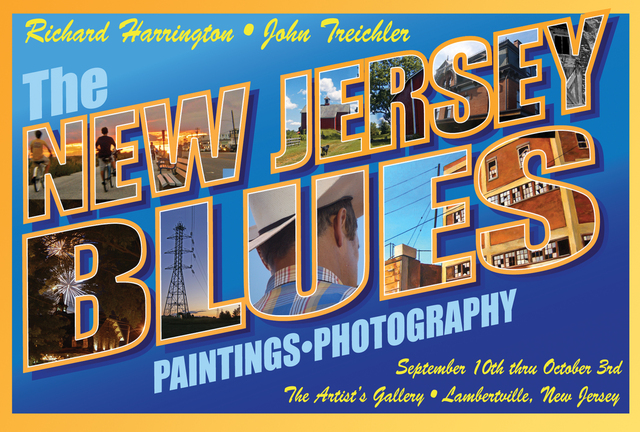 You could call it a road show, but artist Rich Harrington and photographer John Treichler have titled it "New Jersey Blues." It's their joint exhibit honoring the view from New Jersey's many byways and highways.
As you'd expect, there are urban street scenes and picturesque farmsteads. There are also cowboys and Indians, buffalo and wolves. Take a few months to explore New Jersey as Harrington and Treichler have, and there's no telling what you'll see.
"I'm interested in showing what it means to live in an area of convergence," Treichler says. "People outside the state joke about the turnpike, but that's just another word for crossroads. So many things come together here - people, cultures, attitudes, the past and present. Nothing is really out of place in New Jersey."
Harrington was born and raised in upstate New York, but a 1998 move to the eastern edge of Pennsylvania placed him in close contact with the Garden State.
"I chose New Jersey as a subject because I often find myself driving through the state as quickly as possible, trying to get somewhere else," says Harrington. "Influenced by William Least Heat Moon's travelogue Blue Highways, I decided to try taking my time and exploring the side roads and smaller highways, hoping to find the unexpected in a state that I had previously ignored and hurried through."
Both Harrington and Treichler have contributed to an online blog detailing the various places in New Jersey they have visited and researched in preparation for the exhibition. You can read the entries and see works to be included in the show at
www.thenewjerseyblues.blogspot.com
"New Jersey Blues" opens Friday, September 10, and runs through Sunday, October 3. An opening reception will be held Saturday, September 11, from 5 to 9 p.m.
Now celebrating its 15th year, Artists' Gallery is a partnership of eighteen established and regionally represented artists with national and international reputations who attract collectors and art lovers from throughout New Jersey, Pennsylvania, New York, and Delaware. The Gallery is located at 18 Bridge Street in the heart of historic Lambertville, New Jersey, and is open every Friday, Saturday, and Sunday from 11 am to 6 pm and by appointment. For more information, call 609-397-4588 or visit the Gallery online at
www.lambertvillearts.com
.