Designer Wallpaper Retailer Graham & Brown Launches New Ulterior Collection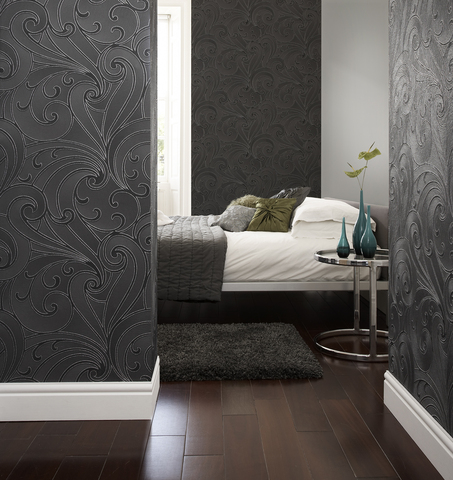 August 28, 2010 - Big, bold patterns are a great way to make a statement in the home and instantly add a smart contemporary look. New from
designer wallpaper
company Graham & Brown, the Ulterior Collection combines bold, graphic and ornate designs with matte and luster effects for a glamorous boutique look.
Inspired by the growing trend for structured masculine designs, the collection draws its inspiration from checker board patterns, bold swirling rhythmic repeats, and the intricate detailing of tribal markings.
This stylish and
contemporary wallpaper
has a color palette ranging from rich plums, blues and charcoal, to softer vintage shades of sand, putty and gold.
The 5 design statements are exaggerated by the specific in-register embosses which adds to the products three dimensional quality and gives this
modern wallpaper
extra durability.
Ulterior – This rhythmic pattern has a masculine edge, its graphic form accentuated by the printed shadow work and deep emboss.
Tailor – A checker board effect is created by using subtle tones and contrasting textures.
Heston – The simple stratum effect used on this design creates a stunning vertical texture. Each layer gently builds on the last to create a subtle three dimensional effect.
Chelsea – Simple tribal markings are over layered and entwined to create a dramatic ethnic print.
Saville – Ornamental and simple. The swirls in this design are line drawn with glitter for a soft finish. This graphic shape is combined with luscious metallics for an industrial look.
About:
As a global leader in wall decor, Graham & Brown is recognized as a powerful creative source stretching the way people think of pattern and color. Through a combination of innovative techniques and ever-improving design skills Graham & Brown's mission is to inspire people to think differently about their homes. To learn more about Graham & Brown, visit
www.grahambrown.com