Sticker Mule Makes It Easy to Buy Custom Stickers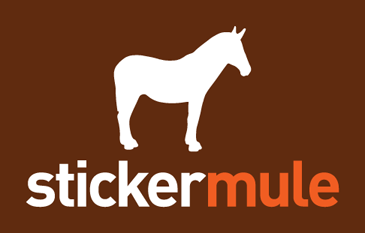 September 2, 2010 - Sticker Mule makes it fast and easy for anyone to purchase
custom stickers
. Customers simply pick a sticker size, upload artwork, and Sticker Mule will generate an online preview of their stickers.
Unlike Cafepress & Zazzle that sell stickers in quantities 1 - 10, Sticker Mule focuses on orders from 100 - 100,000 units. According to Anthony Thomas:
"Everyone loves custom stickers, but they're difficult to purchase. Except for Cafepress & Zazzle, there are almost no options if you want to buy custom stickers online. Our immediate goal is to make it fun and effortless for anyone to buy 100 - 100,000 stickers online."
Sticker Mule sells all varieties of custom stickers including bumper stickers and
die cut stickers
. For $59 anyone can buy 100 stickers that are cut to the exact shape of their design. Currently, their most notable feature is a simple online approval system that let's customers preview and critique their stickers before paying. Sticker Mule thinks printing custom stickers is endless fun, but their passion is building beautifully simple and fun online shopping experiences. Anthony Thomas explains:
"The desire to build Sticker Mule sprang from our envy of beautiful web apps like Basecamp, Wufoo & Lighthouse. The people building these apps spend all day obsessing over how to make life easier for their users. There are so many opportunities to make our experience more enjoyable. We're just getting started."
Launched March 24th, 2010, the small company is already gaining traction. In the past 3 months they've acquired over 500 customers and sales continue to climb.
About Sticker Mule
Sticker Mule is the easiest way for designers, artists, bands and tech startups to buy custom stickers. Their online approval system lets your preview and critique your stickers before paying. Prices start at $69 for 100
custom stickers
with free shipping to the US and Canada.