Farmers' Almanac® Names America's Ten Worst Weather Cities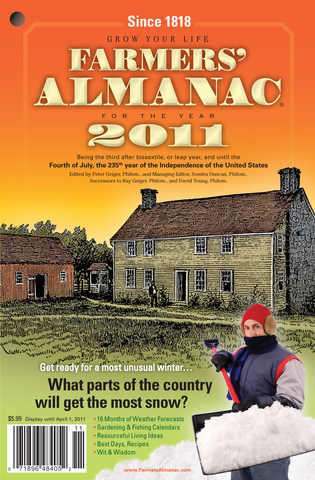 Lewiston, Maine – Syracuse, N.Y. and Miami, Fla. top a list of cities named by the Farmers' Almanac as America's worst, in terms of weather.
The Farmers' Almanac's "Ten Worst Weather Cities" appears in the 194-year-old publication's 2011 edition, released last week. The list itself is divided into two lists – one that details the five worst winter weather cities and another that singles out the five cities with the worst summer weather.
The list began as an attempt to name the best weather cities. In hopes of finding out what readers consider the "perfect" weather, the Farmers' Almanac staff polled the publication's more than 13 thousand Facebook fans. While the consensus seemed to prefer clear blue skies, low humidity, temperatures around 75°F, and a light wind, others said they liked snow, and lots of it.
"The funny thing about weather is that some people enjoy what most of us consider the worst weather-snowstorms, tornadoes, hurricanes," notes Farmers' Almanac editor Peter Geiger, Philom.
"We've even had people ask us where to move to for the best place to see tornadoes, believe it or not."
So instead of choosing cities with the perfect weather, the Farmers' Almanac staff decided to select cities with weather that is far-from-perfect. The resulting list took a number of meteorological factors into consideration, including average summer and winter temperatures, humidity, precipitation, and the number of overcast days. To ensure that the uncomfortable weather actually affects a significant number of people, the Farmers' Almanac editors decided to consider only cities with populations of at least 50,000 people.
Worst Winter Cities
Topping the list of cities with the worst winter weather is Syracuse, New York, which receives "cold, clammy, snowy" weather from October through April most years. An early start and late end to winter are only part of what makes the weather in Syracuse so miserable. The Onondaga County seat is also bitterly cold, with daytime averages in the lower 30s, and nighttime lows in the teens, as well as frequent sub-zero temperatures dips. In addition, the city averages almost 120 inches of snow per season, beating out New York State's other snowiest cities, Buffalo, Rochester, Albany, and Binghamton. Considerable cloud cover means Syracuse receives only about one third of the sunshine possible, making it an all around gloomy place to be during the winter months.
Rounding out the list of cities named among the worst winter locales are:
2. Duluth, Minnesota, with January temperatures averaging in at a mere 16°F;
3. Casper, Wyoming, with 181 days of sub-freezing temperatures each year;
4. Cleveland, Ohio, with bone-chilling winds sweeping down off of Lake Erie;
5. Detroit, Michigan, where two out of every three winter days are overcast.
Worst Summer Cities
When it comes to sticky, wet, oppressive summer heat, few cities in America can stand up to Miami, Florida. Though pleasant to visit during winter months, Miami's subtropical climate becomes excessively hot and humid during the summer months. Add to that the fact that it is right in the line of fire for most tropical storm and hurricane activity, and its frequent thunderstorms, with an average of 44 inches of rainfall each summer, and becomes clear that Miami is no summertime tropical paradise.
Also listed among the Farmers' Almanac most uncomfortable summer cities are:
2. New Orleans, Louisiana, where high humidity and frequent tropical storms often leave everything soggy;
3. Dallas, Texas, with temperatures well over 100°F and heat indices soaring as high as 117°F, coupled with a high frequency of deadly F5 tornadoes;
4. Mobile, Alabama, which sees temperatures above 90°F on two out of three days, average humidity levels between 60 to 70 percent, and more than five feet of rain each year;
5. Corpus Christi, Texas, where late afternoon temperatures peak around 94°F during summer months.
The full story, detailing the Farmers' Almanac staff's reasons for selecting each of the ten worst weather cities is available both in the print edition of the 2011 Farmers' Almanac and online at
www.FarmersAlmanac.com
.
Every year, millions of faithful readers seek out the down-home wit, wisdom, and proven advice that have made the Farmers' Almanac a household name. Weather is the most talked about subject on earth, which makes the annual Farmers' Almanac weather predictions a hot topic. Fans of the almanac say its famous long-range forecast is accurate between 80 and 85 percent of the time. The predictions are based on mathematical and astronomical formula that dates back to 1818, and each new edition contains 16 months of weather forecasts for the contiguous United States.
About the Farmers' Almanac:
The Farmers' Almanac, which features an orange and green cover, has been published every year since 1818. Available at grocery stores and bookstores nationwide, it contains useful and interesting articles, as well as long-range weather predictions, gardening advice, recipes, and more. The Farmers' Almanac retails for $5.99 in several large department and discount store chains. Visit on the web at
www.farmersalmanac.com
.