AVS Video Editor 5.1: "Generation Next" For High-Definition Video Editing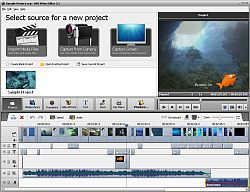 HD-camcorders have won the markets and consumers' hearts. High-definition video has brilliant characteristics, but XXL-size as well. And it's a real chase for good software that would smoothly process HD-files without quality and time loss.
Online Media Technology Ltd. releases
AVS Video Editor 5.1
, the first representative of the new program generation for faster processing of high-definition videos.
AVS Video Editor 5.1 speeds up the editing of HD-recordings due to the integrated video cache technology.
What does video cache bring to you? You increase the speed of high-definition video editing and decrease the time of editing. You open huge files and new AVS Video Editor generates a smaller but exact copy of your video file. You work not with the oversized bulky videos, but with light copies which turns editing to a smoother and faster process. You start working almost immediately and AVS Video Editor 5.1 loads video part by part without clogging up your PC capacities.
HD-video editing is a time-consuming process when it comes to effects application too. The elegant solution for AVS Video Editor 5.1: the program uses GPU resources which enables a faster effect rendering and its further application.
Tatyana Danilova, PR-Manager, Online Media Technologies, Ltd.: "At the very start of the development, our engineers got quite a clear task: the new generation of AVS Video Editor must be fast in all aspects of video editing, first of all, in high-definition files processing. And we're proud of the result."
The interface of
AVS Video Editor 5.1
has undergone a serious upgrade and is powered by the "Do-it-faster" concept too. All key features such as Screen Capture or Camera Capture, etc. are easily found on the main menu.
Especially for beginners, the developers integrated a video overview about AVS Video Editor. This video is the first one on the list of presentations about most interesting and complex aspects of video editing.
AVS Video Editor 5.1 is an integral part of AVS4YOU software suite. The trial version of AVS Video Editor can be downloaded and tested for free at
www.avs4you.com
. Purchase of AVS Video Editor 5.1 provides access to all multimedia tools under AVS4YOU brand. Online Media Technologies Ltd. offers two subscription plans: one year subscription for 39 USD or unlimited lifetime subscription for 59 USD.
Notes for editors:
Founded in 2004 and based in Harley Street, London, Online Media Technologies Ltd. is an IT company that specializes in developing software products for video-, audio-, and image processing that simplify the work of end-users and professional content developers as well. All software products under AVS4YOU brand can be found on the official website
www.avs4you.com
.
Email Online Media Technologies Ltd.