CPAP Battery Inc Introduces A New Cpap Battery Pack for Sleep Apnea Patients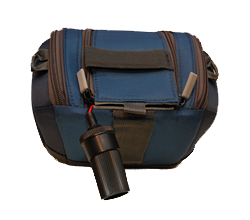 A new
cpap battery pack
has hit the cpap market today, starting at $219.99. The newest cpap battery pack from Cpap Battery Inc can be used with most Philips Respironics and ResMed cpap machines.
The new cpap battery pack can be used for camping, traveling, hurricane season (power outages), or anytime a cpap user is without power. Cpap Battery Inc specializes in cpap battery packs and has produced a light weight, small, yet powerful portable battery to use with most cpap machines. The battery itself is a lithium ion battery, 12 volt 7.8 Amp Hours, weighing in at less than 2 lbs. The wall charger will allow a cpap user to charge the cpap battery between 110-220 volt, making it easy to charge on international trips. It only takes 5-6 hours to recharge at full depletion. The battery and wall charger all fit inside a small compact camera case, making it easy to take along on short or long trips. What's great about this new cpap battery pack is that not only is it small, powerful, and light weight, it also is the least expensive cpap battery on the market starting at $219.99 (at least 20% less expensive than any other cpap battery pack). The cpap battery will last between 1-2 nights between charges.
There are 3 options for purchasing the cpap battery pack, no DC Cord ($219.99),
Philips Respironics cpap battery
with respironics dc cord ($239.99), or
ResMed cpap battery
with S8 DC Cord ($269.99). You can check the website for the new ResMed S9 cpap battery pack.
What's great is CPAP Battery Inc ships all cpap battery packs FREE ground shipping.
If someone has been diagnosed with sleep apnea they know how important it is to use their cpap machine every night. The feeling of being fully rested in the morning makes a big difference, especially while on vacation. Using the new cpap battery pack for traveling, camping, and power outages will allow a cpap user to still get a good night sleep. Other portable cpap battery packs are very big and bulky. Some are even the size and weight of a car battery, weighing over 20 lbs.
Cpap Battery Inc
has designed a new travel cpap battery pack that is not only powerful, but compact and fits inside a small camera case for easy travel. Depending on the cpap pressure settings, this battery could last up to 18 hours on a single charge (1-2 nights is the norm). Other cpap battery packs were found to be more expensive than Cpap Battery Inc. Most insurance companies will not pay for a cpap battery and it is left up to the patient to pay out of pocket for these much needed items when traveling, camping, or when power outages occur. Because of this out of pocket cost Cpap Battery Inc has made it a point to be the lowest priced cpap battery pack on the market.
To view all the cpap battery pack products visit:
http://www.cpaptravelbatterypack.com/products.html