Oya Costumes Introduces Brand-New Halloween Costumes for 2010 Collection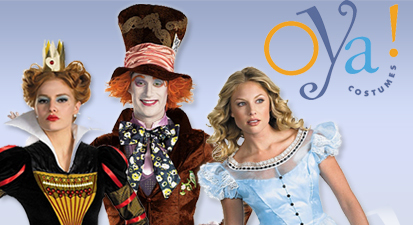 Montreal, Quebec, September 14, 2010 - Oya Costumes, the premier Canadian online retailer for adults and children who like to play dress-up, has introduced a remarkable new collection in time for 2010 Halloween festivities. This is not your parents' costume shop.
Whether your tastes run to the historical or the hip, the modest or the monstrous, the reserved or the risqué - Oya can supply you with the perfect fit. Explains company founder and Montreal-resident Faten Hodroge. "And while some costumes are classic and remain popular year-after-year, Hollywood and pop culture always have a strong influence on Halloween
costume
tastes and trends."
One look at their well-designed website (
www.oyacostumes.ca
) will tell you that Oya Costumes hasn't added a mere handful of choices to their collection - they've added an incredible 800 new items to their costume offering for 2010. All share the same traits: they are clever, original, very appealing - and offer great value for the money. Boasts Ms. Hodroge, "As an online retailer, we are not restricted by the physical size of our store - so we can carry 3 or 4 times the inventory of a typical retailer, insuring customer satisfaction."
Perusing Oya's online catalog is quite an experience. Want to avoid the same old stale options? Check out
costumes
designed around Tim Burton's Alice in Wonderland - expected to be hot picks for 2010, Johnny Depp's Mad Hatter may be poised to join Hollywood classics like Beetlejuice, Edward Scissorhands and Jack Sparrow as perennial bestsellers.
Ladies, feelin' sexy? Strut your stuff in an eye-opening outfit like Car Racer or Cave Cutie. And if you have more than one event to attend, what could be more practical than a new, reversible, 2-in-1 "quick change" costume? Start the evening as fetching Lady Gangster and end it as a fun-loving Flapper, or shove off as a Sexy Sailor before taking the plunge as a mysterious Mermaid.
Oya has doubled their selection of gag costumes. How about his-n-her Bacon and Eggs, and who could be more fun than you when you show up as a Barrel of Monkeys? Believe it or not, you can even outfit yourself as the classic drinking game, Beer Pong.
To accommodate the tremendous interest in the fast-changing costume world, Ms. Hodroge has started a
Halloween Costume
blog:
www.halloweencostume.ca
. "It's great for keeping people right up-to-date on what's available - and it's a great place to get ideas, too," she said. With such a dizzying array of choices, blog suggestions can certainly help to narrow a customer's focus.
Oya Costumes was founded in 2004 by Faten Hodroge of Montreal, Quebec. In order to facilitate the huge demand, the firm has both Canadian and U.S. based websites and warehousing. They are dedicated to providing a broad, year-round selection of top quality
Halloween Costumes
for adults and children. Customer satisfaction is the hallmark of the firm.
Oya Costumes is located on the internet at
www.oyacostumes.com
and
www.oyacostumes.ca
. For more information costumes for adults and children, or to schedule an interview with Faten Hodroge, contact Ms. Hodroge directly at (877) 935-3242, or write to her at
faten@oyacostumes.com