Kensington Master Builders, a Luxury Custom Home Builder in Edmonton, Launches New Website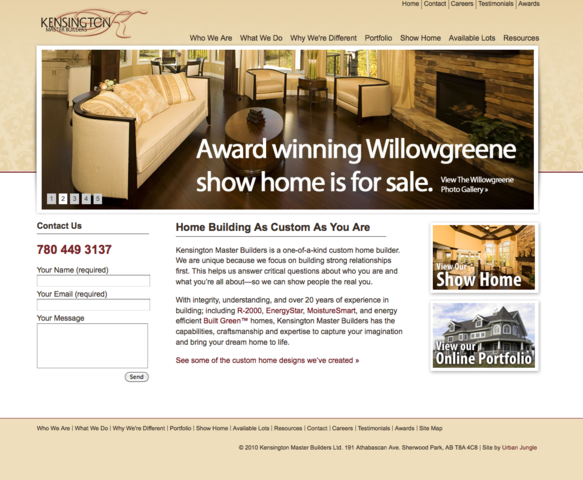 Edmonton, AB, September 16, 2010 – Kensington Master Builders, a prestigious
Edmonton custom home builder
, is excited to announce the launch of its new and improved web site. The upgraded and updated site is the result of three months of analysis, design, and programming. "Our goal is to provide our customers with an online experience that is almost as compelling as a visit to one of our homes," said Chief Master Builder and President Marilyn Kaz. "Of course, the digital world can never match walking through one of our homes; instead, we designed our web site to complement and enhance our "on-site" experience."
Kensington Master Builders has developed the new website to match recent branding initiatives. In addition to the website's many new technical features, the impressive graphic design and interface present a dramatic improvement. "We have streamlined the site's navigation, making it more user-friendly. We also enhanced our photo navigation system for the many visitors who simply want to browse our portfolio of
custom home designs
. We think this presentation will allow our users the ease and efficiency of quickly getting to their desired destination, while simultaneously making the site more inviting to thousands of new users to learn about the Kensington brand," said Kaz.
The new website offers information on the building process, environmental consciousness, energy efficient green building practices, and available lots on which to begin building a custom home in the Edmonton area.
About Kensington Master Builders:
Kensington Master Builders
is a low-volume custom builder focused on building beautifully crafted, energy efficient, hi-tech homes. With integrity, understanding, and over 20 years of experience in building; including Built Green™, R-2000, EnergyStar, MoistureSmart, and energy efficient homes, Kensington Master Builders has the capabilities, craftsmanship and expertise to capture your imagination and bring your dream home to life.
Email Kensington Master Builders