San Francisco Photo Award Winners Announced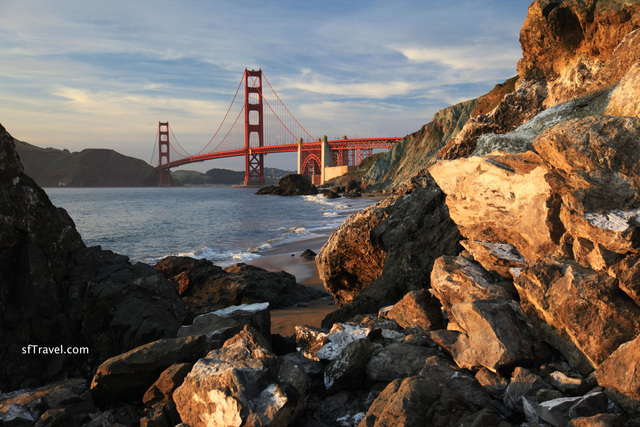 The award winners of the San Francisco photo contest were announced on September 20th, 2010 by sfTravel.com. Over one hundred photographers from around the globe shared their photography and unique stories in this 2nd annual contest.
Grand Prize Winner Tory Kallman is a San Francisco resident who shot his unique view of
Golden Gate Bridge
at Marshall's Beach "…My girlfriend and I had taken a walk to enjoy the beautiful weather and watch the sunset. We love to escape the city and enjoy the city's coastal hiking trails…"
Runner-Up Winner Yu-Chen Chiu hails from Brooklyn, New York and took his
cable car
motion blur while headed to dinner on Hyde Street. "…I saw riders greeting each other across cable cars moving in opposite directions. No matter how hectic life is, people always stay connected and friendly in San Francisco…"
Runner-Up Winner Lacy Inscho visited from Saint Joseph, Missouri and took her
Coit Tower
neighborhood photo during her 12th anniversary celebration. "…the liveliness and mixture of many different cultures combined in San Francisco was amazing. We can't wait to visit again…"
Runner-Up Winner Katey Schoenberger from San Jose, California took her
Haight Street
photo inspired by the desire to capture the history and culture of the 1960's in San Francisco. "… I can't help but think that I am walking the same streets as legends like Janis Joplin and Jimi Hendrix once strode… "
The Grand Prize winner was awarded a cash prize of $100 and $25 was awarded to each of the runner-up winners. The energy and vision of the winners'
photography of San Francisco
is shared with over one million annual visitors to sfTravel.com.
sfTravel.com is a leading destination travel site featuring independent reviews of San Francisco's coolest hotels, restaurants, activities, and transportation options for visitors. Originally launched in 1996, sfTravel features a brutally honest style which calls the shots for the visitor activities that our editors recommend to seek out or just skip.