Apartments or hotels – which are the better way to stay?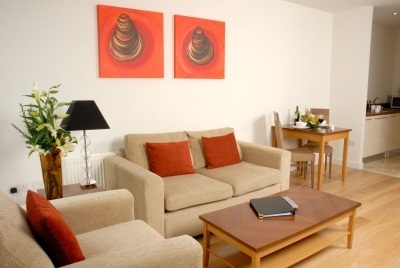 Once the preserve of the savviest business travellers, attracted by the generous space, convenience and home from home feel; the word about
serviced apartments
is rapidly spreading, with more and more people now thinking twice before wanting to buy that same old hotel room experience. With at least 300
aparthotels in London
, 50 in Manchester and sizeable numbers in Birmingham, Glasgow, Cardiff and the rest of the UK, the serviced apartment sector is undoubtedly flourishing; but with a noticeable number of frequent travellers still unaware of serviced apartments and the multiple benefits they can offer – many continue to miss out on this increasingly popular accommodation choice.
The major attraction of serviced apartments is overwhelmingly the generous space they provide – an average one bedroom apartment generally measures some 420-430 sq ft. which, compared to the meagre 150-245 sq ft. of an average hotel room, is a substantial enhancement. Add to this the prospect of fully equipped kitchen facilities, where guests can rustle up their favourite breakfast rather than having to endure the ubiquitous cheap sausages, undercooked bacon and cold beans, and where they can better manage their outgoings by eating in instead of dining out for every meal; and suddenly, serviced apartments turn into a warm and welcoming personal space, rather than just a place to store one's bags and rest one's head.
Following the emergence of serviced apartments in the USA, the Parker family were one of the first accommodation agencies in the UK to recognise the potential of this popular trend where guests could repose rather than simply stay, and launched Central London Apartments and Citybase Apartments respectively. Others, including Silverdoor, SACO and The Apartment Service, were also quick to jump on the bandwagon as the interest in serviced apartment steadily took off. With more and more people quickly appreciating the benefits of serviced apartments, Citybase Apartments alone has seen a 20,000% growth in visitor numbers to their website since going live in 2007; with customer usage now encompassing not only business trips, but increasingly
city breaks
and
family breaks
as well.
A further pivotal factor for serviced apartments' increasing popularity over hotels is that they provide a warm and atmospheric home from home where guests can relax on the sofa, put the kettle on, prepare dinner, watch a favourite show or even load the washing machine should they so wish. And with the majority of properties featuring the standard facilities which one would find in a hotel, such as regular housekeeping, concierge services and a reception desk – guests won't miss out on a thing whilst staying in a serviced apartment. This has inspired a number of apartment providers to adopt the appellation of 'apart-hotel'; making it crystal clear to those travellers who are still in the dark about the serviced apartment industry as to the very distinct facility being offered.
It was the businessman that discovered the appeal of the apartment first, enjoying the extra space to work as well as relax along with the opportunity to avoid the cramped elements of the faceless hotel room. When spending days at a time away from home at a conference or exhibition, it's inevitable that one would quickly tire of eating out for every meal and sitting around generic hotel bars so it's no surprise that the apartment concept proved so popular amongst the business community. But as many are now finding, apart-hotels are a perfect option for holidays and short breaks, especially when travelling with family or friends. As payment is per apartment, not per person, costs can simply be split between guests as appropriate, which makes it much cheaper than the hotel equivalent and an eminently affordable option in these financially constrained times. Equally important, with the lounge area and kitchen integral to an apartment, it feels like you have your very own city centre pad - perfect for your shopping weekend with the girls, birthday celebrations or
short break
away.
With so many tangible benefits in opting for a serviced apartment, this accommodation trend is definitely here to stay, but the question is; with more and more people choosing an apartment or aparthotel over a standard hotel, are you ready to take the plunge and experience the compelling advantages of a serviced apartment for yourself?
Email Citybase Apartments