Hottest Playhouse Gift Ideas for Kids This Christmas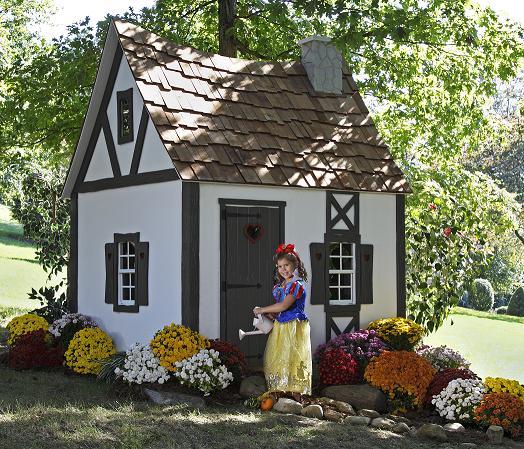 FINLEYVILLE, PA (September 28, 2010) - Looking for the perfect present for your kids this Christmas? One that will make their jaw drop? One they'll still remember when they're 40?
Look no further! Lilliput Play Homes, leading designer of wooden
outdoor playhouses
for children, shares the hottest trends in playhouses this Christmas:
Disney Playhouses
- Chosen by Disney as their exclusive playhouse manufacturer, Lilliput brings the magic of Snow White, Mickey Mouse, and that crazy Mowgli to your backyard this holiday season. Curl up in Snow White's loft, serve your friends dinner through the drive-up window at Mickey's Diner, or swing and climb in Mowgli's Hut.
Playhouse + Swing Set = FUN! - More and more families are choosing to combine the best of playhouse imagination and make believe with the physical activities of a traditional swing set. Imagine climbing up your rock wall to a balcony, then escaping down the slide on the other side! Boys and girls can swing, climb rope ladders and spin to their heart's content one minute, then dream and play inside their own playhouse creating imaginary worlds the next.
Miniature Replicas - Destined to become an heirloom for generations to come, the designers at Lilliput Play Homes are experts at creating miniature treasures! From Tuscan villas to traditional Cape Cods, from Spanish-styled homes to ornate Victorian masterpieces, the craftsman at Lilliput Play Homes will create the perfect place for you to share beautiful memories with your children.
"We've seen dramatic changes in building materials and techniques used over the past 20 years. We feel we've taken playhouse construction from the do-it-yourself backyard era to the 21st century." says Stephen Chernicky, president and founder of Lilliput Play Homes, Inc. "When I built the very first Victorian playhouse for my then 2-year old daughter, Alyssa, there weren't sophisticated building materials, like cellular PVC. Today, availability and affordability of durable, commercial building products allow us to make an even better quality playhouse, one that will surely be able to be passed down to future generations."
"But," laughs the now 22-year old Alyssa, "some things will never change. Little girls still love to play and dream and imagine in their playhouses!"
Want to keep up on the latest trends in children's indoor and outdoor
playhouses
? Sign up to receive
Lilliput's monthly e-newsletter
, filled with photos of recent installations and discounts on playhouses and playhouse accessories.
About Lilliput Play Homes
Lilliput Play Homes is the premier designer of distinctive playhouses for children. With almost 20 years of experience building children's playhouses, Lilliput Play Homes is the respected authority on playhouse design and construction. The company proudly crafts high quality outdoor playhouses of lasting value to provide a lifetime of cherished memories for you and your children.
Email Lilliput Play Homes, Inc.