The Dentists at Midtown Dental in Lakeland, FL Launch New Website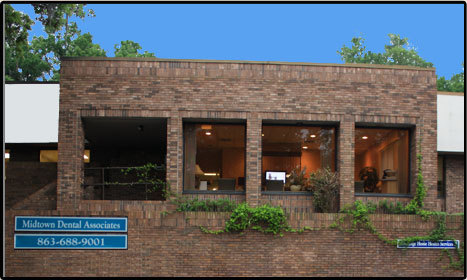 Midtown Dental, located in Lakeland, FL, launched a new, informative website this morning detailing their available dental services. The new website is user-friendly and gives potential patients a chance to review the offered services. It also provides information on specific procedures, such as dental implants, dental crowns, teeth whitening, and proper oral hygiene care.
The dentists at Midtown Dental, Dr. William Nerestant, and Dr. Slater, both own and operate the practice.
Dr. Nerestant earned his doctorate in Dental Surgery from the University of Detroit/Mercy in Michigan in 1988. Immediately afterwards, he joined the Air Force, where he received the "Air Force Achievement Medal" for his meritorious service. Dr. Nerestant has studied with the Dawson Center for Comprehensive Dentistry and with Dr. Frank Spears, a near legend in cosmetic dentistry.
Dr. Slater earned his doctorate degree from Nova Southeastern University in Florida and practiced in Ft. Lauderdale before moving to Lakeland, FL. He is a certified Invisalign provider.
Midtown Dental offers several options to ensure their patients are comfortable during their visit. These options include stereo headphones and massage chairs in addition to a relaxing, calm atmosphere. Oral sedation and nitrous oxide are also available when needed. For patients that experience anxiety simply at the thought of a dental visit, these options can be quite soothing.
Midtown Dental is also one of the few providers in the Lakeland, FL area that offers dental implants, a dental service that requires a great deal of skill and training. More and more patients today are opting to use dental implants as a solution for missing teeth mainly because it is permanent and precludes the necessity of bridges and partial dentures.
Midtown Dental also keeps appointments open each day to deal with emergency cases. This means almost all patients who need urgent dental services will be attended to within 24 hours. The state of the art dental facility allows Dr. Nerestant and Dr. Slater to handle almost any type of dental emergency, including those caused by sports injuries, auto accidents or other unforeseen circumstances.
To combat the recession, Midtown Dental decided to find a creative way to help new patients without dental insurance. The website offers a $78 special (D0150, D0270, DO330, D9310, D1110), which includes a 10-point healthy teeth exam, necessary x-rays, regular cleaning (unless gum disease is present), and a personal consultation. Information about this special dental service is available on Midtown Dental's new website and allows patients an affordable option when dental care is needed.
The Midtown Dental website makes it easy for patients to schedule an appointment through the Dental Contact Form. Patients simply complete the form and an appointment specialist will be in touch to schedule the appointment at a time convenient for the patient.
Midtown Dental provides Lakeland, FL with quality dental care in a comfortable and caring environment. The wide range of dental services, experienced dentists and personnel, state of the art facilities, and innovative website design give patients a new choice for their dental care.
Contact:
Dr. William Nerestant
Dr. Slater
607 South Missouri Avenue
Lakeland, FL 33815
Phone: (863) 686-9001
Fax: (868) 686-6732
Website:
www.mymidtowndental.com
Email Midtown Dental in Lakeland, FL