Double Play – Awareness and Hope Teamwork Honors Breast Cancer Awareness Month with Fundraising Initiative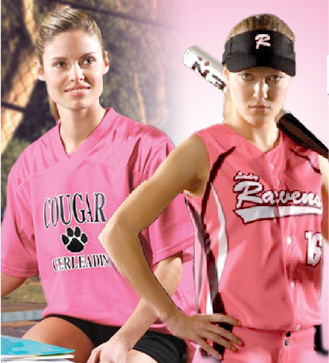 San Marcos, CA, October 1, 2010 – Teamwork Athletic Apparel, a leading provider of athletic uniforms, is making a double play in the fight against breast cancer this October. Through an internal fundraising program and an external sales drive, the company is raising money for the American Cancer Society to fuel efforts to find a cure and honor breast cancer survivors.
Leticia Crisan, Teamwork's People Operations Manager, describes the importance: "In 2009 we unfortunately lost a team member to breast cancer. She was a wonderful and hard-working woman, and it really provided a wake-up call for many of us. Her memory served as a catalyst to create a program to raise money for research and prevention, as well as let people know where they can go for help." Fellow Teamwork member Tasha Stewart was a driving force along with Leticia in the success of the program. She explains, "After my own mom was diagnosed, the breast cancer awareness drive gave me an outlet to fight back, and do something positive." This year Tasha will also be participating in the Susan G. Komen 3-day, for which she has already raised $2,500.
Teamwork's efforts in 2009 raised over $1,700 from employee donations which were matched by the company for a total donation to the American Cancer Society of $3,565. For 2010 the company is expanding efforts and donating 10% of the proceeds of pink items sold during the month of October.
Andy Lehrer, VP Sales & Marketing, notes, "Breast cancer awareness, prevention, research for a cure, and support for those diagnosed are all extremely important to Teamwork. Many of us know someone who has been affected by breast cancer, and as a company we want to support those individuals, as well as efforts to combat the disease. " He continues, "Teamwork is honored to contribute to such a deserving organization and vital cause."
The statistics on breast cancer are startling — according to the American Cancer Society, the chance of a woman developing invasive breast cancer some time during her life is a little less than 1 in 8. Breast cancer is the most common cancer among women in the United States, second only to skin cancer. Over 200,000 new cases are expected in 2010 including 2,000 cases in men. Please join Teamwork Athletic Apparel and the American Cancer Society in their efforts to create a world with less breast cancer and more birthdays. Visit
www.TeamworkAthletic.com
for more information.
About the Company
Teamwork Athletic Apparel, headquartered in San Marcos, California, is a quality manufacturer of athletic uniforms for men, women and children. Selling only to authorized dealers, Teamwork delivers the best selection of stock and custom sublimated uniforms without minimums. For more information on the complete line of Teamwork Athletic Apparel products, please visit the website:
www.TeamworkAthletic.com
.
Email Teamwork Athletic Apparel