GetEducated.com Publishes Best Online School Rankings for Affordable Distance Learning Masters, Public Health Programs Online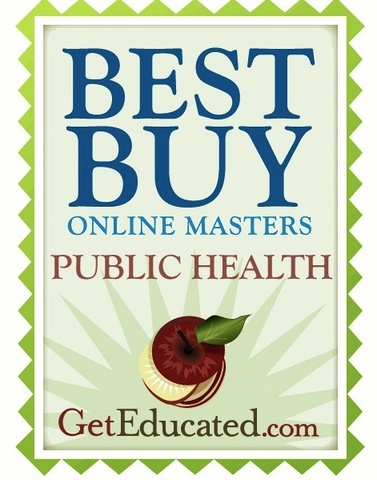 GetEducated.com,
http://www.geteducated.com
, has released its 2011 online degree rankings of the best — most affordable — online public health masters degrees from graduate schools online.
The distance degree rankings detail the Top 12 Best Buys for online students looking to find an affordable degree from graduate schools nationwide that offer distance masters (regionally accredited).
The "Best Values" online college rankings are based on a review of 18 graduate schools (regionally accredited) that offer 27 separate online public healthcare masters (Online MPH).
GetEducated's online university reviews found the average online degree cost for a distance masters in healthcare (Public Health) — tuition and distance education fees included — was $28,256.
The University of West Florida ranked as the #1 most affordable distance degree for students seeking an online medical degree - masters public health. Students nationwide will pay a low cost of about $10,728 for this distance learning masters.
Johns Hopkins University's distance learning division offered the least affordable online MPH, at an estimated university cost of $69,460.
One notable online education trend: Of the 18 online graduate schools reviewed by GetEducated, only three operate exclusively online: Capella University, Walden University, and American Public University. The remaining 15 universities offering online public health masters all enjoy legacies as residential institutions.
In fact, the majority of public health distance degrees reviewed by GetEducated enjoy top academic reputations for their residential healthcare graduate schools. GetEducated's review list included distance masters from public health schools at Johns Hopkins University, Emory University, and Loyola University.
"What many potential online learners don't yet realize is that the best online graduate schools are increasingly the very same institutions that have helped Americans get educated in the medical and healthcare fields for more than a century," says Vicky Phillips, GetEducated's Chief Online Education Analyst.
GetEducated.com's Top 12 Ranked Distance Masters – Affordable Public Health Degree Programs
is posted on the online education firm's website.
Online students can compare 3,000 degree programs by cost and student reviews by visiting GetEducated's free guide to the best online education programs. GetEducated publishes reviews of 27 public health programs online.
About: Founded in 1989 by distance learning experts, GetEducated.com publishes online graduate school rankings and online degree reviews of distance masters along the dimensions of affordability and credibility.
CONTACT: Vicky Phillips,
info@geteducated.com
, GetEducated.com, LLC, Essex Junction, VT. 05456. 802-899-4866. Website:
http://www.geteducated.com
Email GetEducated.com, LLC