SpiceStack Gets Cooks Organized and Ready for the Holidays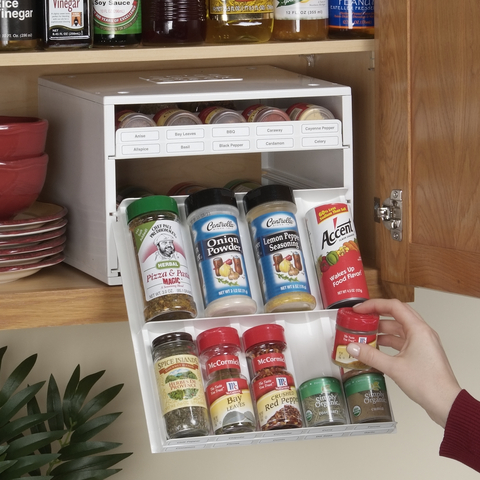 Chicago, Ill. — The SpiceStack was developed by an American inventor to help home cooks get their spice bottles under control. Now with more than 150,000 units sold, this unique "Made-in-USA" product line offers the ultimate solution to locate and retrieve spices, while saving valuable countertop space and keeping kitchen cabinets clutter-free.
The Original SpiceStack, which recently received the Cooking Club of America's Member Tested and Recommended Seal of Approval, and the Super SpiceStack, hold 18-plus and 27-plus spice bottles respectively. Their space-saving design stores spices horizontally in a dark, dry cabinet where they stay freshest. Home cooks can fill the three-drawer spice rack with their own collection of store-bought spices based on cooking and taste preferences. To use, simply pull the drawer out to a stop and lower to resting position at eye-level. Choose and use the necessary spices, and then replace them to stay organized.
"Cooking with a variety of spices presents a frustrating organizational challenge. Home cooks need easily accessed spice bottles without creating a mess or eyesore in the kitchen," says Lauren Greenwood, vice president of sales and marketing for YouCopia Products, Inc., maker of the SpiceStack. "I can't think of a better, faster, more affordable way to get your spices organized before the holiday rush than the SpiceStack."
In addition, the sleek, space-saving Exact SpiceStack solves two major kitchen dilemmas – storage of spices and measuring tools – with one clever organizer. The Exact SpiceStack puts a stop to digging through cabinets and drawers by placing spices and measuring tools in a tidy location at home cooks' fingertips. The unit features a "tool drawer" that includes a 10-piece set of professional stainless steel measuring cups and spoons, as well as a unique leveler for precise measuring every time. Two more drawers hold 18 full-size spice bottles. The Exact SpiceStack also makes a great gift for all cooks ranging from those who have everything to those just getting started in the kitchen.
All SpiceStack models include 48 pre-printed and 48 blank labels that can be placed on the face of the drawers to easily identify where spices are located. Multiple units can be stacked on top of each other for cooks with large spice collection. Unlike cheap knock-off products, the durable and high-quality plastic SpiceStack does not require assembly.
Suggested retail prices are: $29.95 for the Original SpiceStack; $39.95 for the Super SpiceStack; and $59.95 for the Exact SpiceStack. The SpiceStack is available for purchase through catalogs, specialty retail, and online, including at
www.SpiceStack.com
.
All SpiceStacks are made in the USA. YouCopia Products, Inc., maker of the SpiceStack, is dedicated to designing and manufacturing ah-ha! home products that help people cope with life's little problems, like too many spices! For high-res images, please contact Lauren Greenwood at
Lauren@YouCopia.com
, or call 773-252-0710.
Email YouCopia Products Inc.