Candy Spelling and Artist Michael Storrings introduce Holiday Ornament to Benefit the Lange Foundation- "We Ruff LA" Starring Maddie Spelling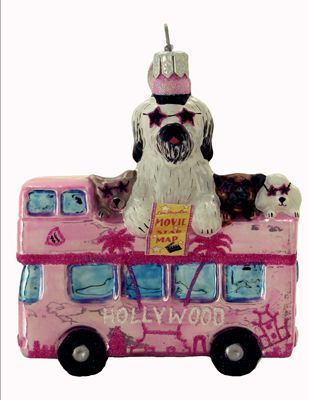 Candy Spelling has worked with artist Michael Storrings to create a European hand-painted blown glass ornament depicting her famous dog Maddie. Maddie is seated on a Hollywood Tour Bus holding a map to the stars' homes surrounded by her canine friends.
Maddie says " When you're as cute as I am and you live in a famous house in Hollywood, you get alot of offers. The request to "star" on a Christmas ornament that would highlight my hometown and benefit the Lange Foundation was just too good to pass up. I like my image and can't wait until you show me off on your Christmas tree."
Candy Spelling has designated a portion of the proceeds to benefit the Lange Foundation in their quest to place shelter pets. The ornament is also a nod to Candy's role as Los Angeles Tourism Ambassador.
Candy and Michael will be signing the ornaments at Dee's Flower's in Studio City, CA on Saturday, November 6th from 6:00 to 8:00pm and Sunday, November 7th from 12:00-2:00pm. 11634 Moorpark St Studio City, CA 818-769-3000