Unlimited SMS Texting on Line2 is a Hit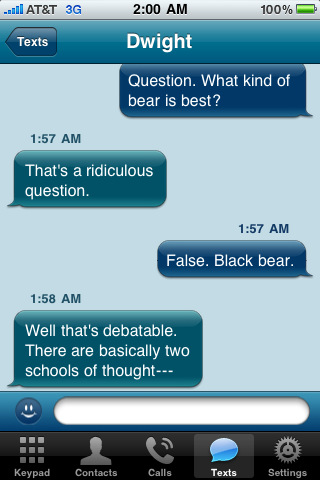 San Francisco, CA - In just four days since the official release of Line2 Version 3.0, over one million SMS text messages have been sent by Line2 users.
Line2 Version 3.0 is the first
VoIP app
to feature unlimited carrier-grade SMS texting, providing customers with unlimited ad free text messaging with any SMS-enabled phone on any carrier. The result is a texting experience that is identical to traditional SMS offered by the major cellular carriers, but at a fraction of the price. Line2 costs just $9.95/month for unlimited US/Canada calling and texting. AT&T charges $20/month for just unlimited SMS texting.
Unlike texting-only applications for the iPhone, Line2 combines
VoIP calling
capabilities and carrier-grade texting in one app. Line2 gives customers one number for all communication - no need to remember user names for calls and email addresses for texts. There is no other VoIP app available on the iPhone, iPad or iPod Touch that offers this.
Peter Sisson, Founder and CEO of Toktumi, said, "We knew that the addition of SMS would be popular with consumers but we didn't expect them to adopt it as quickly as they did. It really shows that Line2 users are enjoying the functionality of our SMS and understand that they can save money by using it!"
Line2 customers get unlimited calling and unlimited SMS texting for half the $20 price that AT&T charges for unlimited texting alone. When you add in the savings achieved by dropping to the lowest AT&T calling plan and using Line2 over WiFi for voice calls, customers can reduce their cell phone bill by as much as $50 per month.
Version 3.0 is an even bigger breakthrough for
iPod Touch and iPad
users. Line2 turns either device into a WiFi mobile phone with all the features of a traditional cell phone for just $9.95/month. College students and anyone with regular access to WiFi networks or a portable WiFi hot spot device can now have a viable alternative to a cell phone for a fraction of the cost.
"For the first time, Apple's new iPods offer built-in microphones," says Sisson. "Using Line2 on a new iPod touch is just like using an iPhone. No other app brings phone-number based voice calling, carrier-grade texting, and advanced features like call waiting and conferencing to iPods and iPads. Not Skype, not Google Voice, not Fring, not Truphone, not Vonage. This is absolutely an industry first."
About Toktumi, Inc.
Toktumi, Inc. is the leading provider of affordable
hosted PBX phone services
for small businesses and virtual offices and mobile VoIP solutions for business users and consumers. For the latest information on Line2 and Toktumi, follow us on Twitter at twitter.com/Toktumi or visit our Facebook page at facebook.com/toktumi.