ARE YOU BUYING ADVERTISING THAT DOESN'T WORK?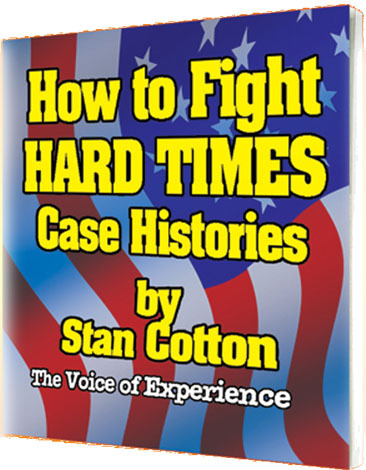 The public doesn't buy corporate advertising. No matter how noble the purpose of the advertising — the public no longer relates to the 'corporation.'
Why not? Corporation ignore ways of accomplishing much more persuasion than business-as-usual advertising from tasteful quietness-to-dramatic boldness.
In Stan Cotton's long-torturous life-time freelance slog to produce ads hype free, he has learned one important lesson that he would like to pass on to the next generation of corporate ad folks.
Nothing in the world is more powerful than responding to peoples interests, wants and needs with straight talk.
Cotton is the face of unconventional thinking in advertising that for fifty years would not back away from always laying it on the line without zoomy graphics, artificially elegant language and straight out lies.
There isn't a single idea used in his ads.They are all based on linking simple truths with dramatizations of existing situations and topical events that hit hard and shout out.
A lot of his ads go on to explode myths and turn negatives into positives.
Cotton was and remains the definitive outsider with dozens of small to multinational clients, including US and foreign government agencies on five continents, notched on his hired gun. He made a living for over 35 years kicking advertising mediocrity in the head for both fun and profit. Cotton describes himself as a "hired gun for rare clients."
Rare clients, who say, "You know what you're doing, just do it."
He always succeeds with his "BIG IDEAS" in spite of skeptics, critics and conventional wisdom.
For example, how many people do you know that actually rented golf balls and made millions for his clients?
Or, rented pricey Miami Beach apartments by using the City of Pittsburgh as his foil? (The Pittsburgh fathers cried foul, but the apartments enjoyed a land office business).
Or, marketed a black-owned bank in the heart of Washington, DC. with an ad stating, '"Loan A Black Some Money, You'll Be Lucky If You Ever Get it Back" (The attention-getting ad quickly dismissed the myth as untrue, of course, the bank received a massive spike in deposits).
In each instance, Cotton did not rely on complicated research, time-consuming focus groups, decision trees or charts or graphs depicting "consumer sensitivity" or "how to seek art awards."
In each instance, Cotton did rely on showmanship, decisiveness and a "can do" attitude in the face of risk.
Stan Cotton is now among the last of that thinning breed and remains one of the most fearless ad men left in America whose not above "ruffling feathers" with his "can-do" attitude to get the job done.
In his time, Cotton has also concocted the first anti-terrorist billboard campaigns in America.
Cotton is now selling his case histories. He's doing it for the best reason in the in the world - to make money. They are now available as case histories on
www.pickcotton.com
Hopefully corporations will figure out there's hardly a favorable environment out there for corporate ads, the public isn't buying corporate images. The public no longer relates to corporations.
To establish an image nowadays requires memorability if it to close the gap of disinterest.
Go beyond the immediate problem to fundamentally change how people talk to people – and the world.
Buy his unique case histories at $15. a pop. Be free to distribute them.
http://www.pickcotton.com
Email 100% Cotton Ad Concept Co