Cool Wix Gear Offered on New Online Store by Website Builder Wix.com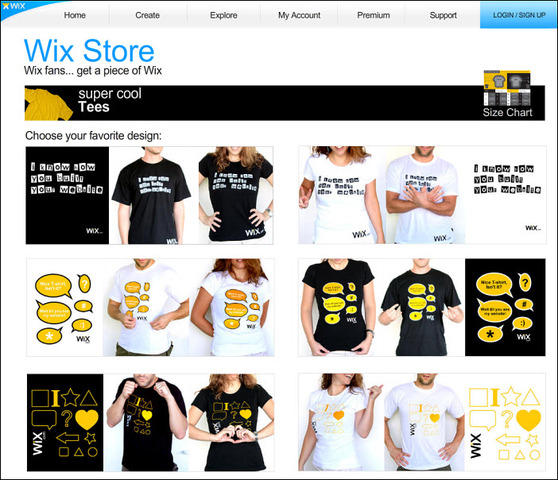 Wix, a market-leader in
free website design
, has unveiled its much-anticipated
Wix Store
. The company was founded in 2006, and has revolutionized the field of web design, by offering an intuitive drag & drop platform that completely eliminates the need to code in order to build a unique Flash website.
Since the company's inception, it has grown to include an international user-base of over 5 million users, each owning their own customized Flash website, hosted on Wix servers. Wix.com continues to experience dramatic market growth. The release of its Wix Store marks a new direction for the start-up.
"The Wix online store is a direct response to user requests," says Wix CEO, Avishai Abrahami.
"We began spotting comments on our forums and the Wix Wish List, asking about ways to purchase Wix merchandise. We are thrilled to offer our users more than a product, but a brand that translates into wearable merchandise."
The new Wix Store website was built using the Wix platform. Flash effects like rollover effects, animated photo galleries and 3D clip art makes the site a pleasure to visit, offering a glimpse of what Wix makes possible.
The online shop features pop-inspired designs highlighting the company's iconic logo. Shoppers can browse by category, product, and specific design. Prices vary from as little as $3.85 for a notebook to $49.45 for a Wix-branded laptop bag.
Users interested in creating their own
free website
can sign up at Wix and immediately start playing with the colorful drag and drop platform. A stunning array of Flash website templates gives users a heads up with a pre-designed site built by a pro web designer. A rich variety of free web design is offered in the Wix photos library, animation files, music, widgets and more. Users can simply drag and drop these elements onto their sites, or click to upload their own content with ease.
Small business owners, designers, photographers, musicians, artists and online entrepreneurs choose Wix as an affordable option to hiring a pro web designer, or learning
how to make a website
from manual coding languages.
There are over 5 million users on the Wix platform owning more than 5.2 million websites. The company continues to see substantial growth, averaging over half a million new users per month.
Founded in 2006, Wix.com is backed by Mangrove Capital Partners, Bessemer Venture Partners and Benchmark Capital. Wix has offices in New York City, San Francisco, and Tel Aviv.