X Factor stars spotted in Bench Covent Garden, London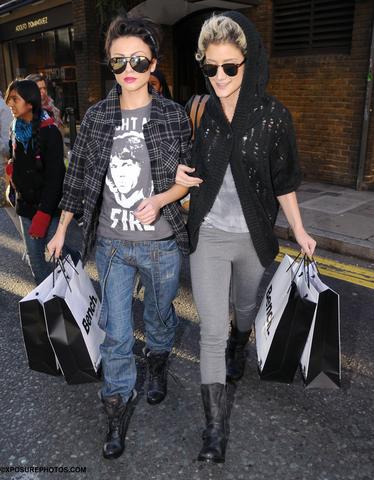 X Factor contestants Cher Lloyd and Katie Waissel were spotted leaving the Bench Covent Garden store on Wednesday, kitted out in the latest Bench styles.
Cher, who shot to fame after her impressive audition of Soulja Boy's 'Turn My Swag On' was pictured wearing a Bench checked shirt, the latest Bench jeans and the brand's best-selling
trench boots
.
Katie opted for a Bench hooded cardigan, Bench grey leggings and Bench biker boots. After almost facing elimination in the first week, the singer proved she is back on track with a stunning performance of Etta James' 'I'd Rather Go Blind' last weekend.
Both girls rocked the latest winter trend with chunky leather boots, and teamed their stylish outfits with their favourite accessory – big hair! Both outfits are available to buy within the
women's clothing
section at bench.co.uk.
The contestants were enjoying a shopping break in between rehearsals for the live shows this Saturday. Whilst they looked great, the ladies just missed on out the
Bench sale
– which launched today!
About Bench.
Bench is a British born, urban lifestyle brand which designs, sources and markets cool & distinctive products. Real people and real clothes are the inspiration for the wearable, timeless pieces the brand is renowned for.
Over the years, the brand quickly gained popularity with those in the know, who appreciated the innovativeness that Bench was able to demonstrate. Bench has developed into a widely and highly respected urban lifestyle brand that was named the coolest streetwear brand by the 2007/2008 CoolBrands panel.
Since its humble Manchester beginnings, Bench's distribution has extended globally, and the brand is now sold worldwide in Europe, USA and Canada.
NOT FOR PUBLICATION
Please note this photo is not permitted to be posted on Facebook /Twitter or any other social networking site.
Email Americana International Ltd