Paul Simon's First Ever Mid Season Sale Begins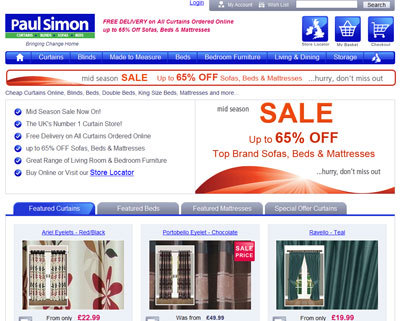 Paul Ludwin, managing director boasts of the sale that" as this is our first ever mid season sale, we wanted to make it as big as possible. We have great discounts in all departments and not just curtains, for which we are famous". Mr Ludwin went on to say that "for customers thinking of new curtains, now is the time to give us a visit either in store or online, with fully lined ready-made curtains from only £14.99 a pair, or to save an extra 20% off from our made to measure curtain gallery, with a massive selection of fabrics to choose from". Selected curtains are now up to 50% off in the sale, which continues into the blinds department, with blinds from as cheap as £7.99.
However Paul suggests that the biggest deals can be had in the beds department, with savings of up to 65% off the RRP. Now may be the ideal time to check out Paul Simon for customers looking to change their beds as he went on to add that customers should "try out the selection of new beds, from memory foam to pocket sprung - there is sure to be something that you will find is just right and comfortable for you, and with massive savings of up to 65% off, it is definitely the time to change that uncomfortable bed.". One of the featured products in the sale is the
Penthouse Double Bed Frame
; offers a saving of £300, down from £449 AEP to £149 in the latest sale.
Huge savings may also be had on sofas, with prices also up to 65% off, such as the Panama 3 seater recliner - down from £1199 AEP and now only £399.
The sale has already been a huge success both in stores and online; in fact, due to the high demand and breadth of the sale, some customers experienced delays viewing the website as Julian, the webmaster recalls" On Saturday evening and Sunday evening, the number of people viewing the website quadrupled regular weekend figures because of the huge sale discounts, and this resulted in slow page downloads for some viewers. We have doubled the websites bandwidth and made other changes to help speed up the pages to cope with the demand."
The sale continues and customers are advised to visit online or in stores ASAP, while stocks last. The mid season sale is due to end on [date].
RESOURCES
More information on the sale can be seen in stores or by visiting Paul Simon online:
Paul Simon Sale
Curtains Sale
Beds Sale
Paul Simon Store Locator
Email Paul Simon Home Furnishings