Blue Bamboo: First Mobile Printer and Payment Solution for iPhone 4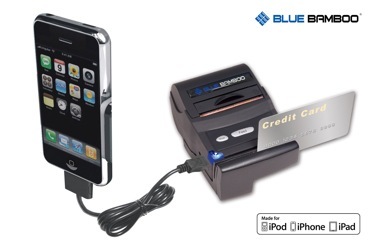 October 28, 2010, Lake Mary, Florida, –Blue Bamboo, an innovative provider of electronic payment solutions, announces the mobile P25-M Printer certified with MFi (Made for iPhone/iPad program – including iPhone 4).
Manufactured for mobility and POS receipt printing, the P25-M is ideal for payments as well as for ticketing lottery coupons, and receipts. Blue Bamboo releases the MFi certified P25-M Printer, which includes a specialized and secure serial connection to the iPhone, iPad or iPod touch, and facilitates quick swipe and print capabilities for mobile merchants. 3DES DUKPT encryption is applied to P25-M to ensure card data is protected at point of swipe. Many consumers require a physical receipt and the iPhone paired with a P25-M has made paying at the table, car-side, or during home delivery a reality.
Justin Anderson, Chief Marketing Officer, Blue Bamboo explained, " If you have an iPhone/iPad/iTouch looking for a secure card-present and receipt based payments solution, the MFi certified P25-M Printer is built to suit your needs admirably. It accepts credit cards anywhere, anytime over a GPRS or WiFi connection. An iPhone/iPad/iTouch paired with a P25-M and connected to the Internet will process on-the-spot transactions and prints receipts immediately."
An MFi authorized partner is able to certify a total solution by integrating a Works with iPhone approved payment application into the Blue Bamboo P25-M. Consumers and merchants alike may now experience the first fully developed mobile payment solution with the Apple iPhone, iPad or iPod touch. Many solution providers pair Blue Bamboo's product to their mobile payment solution suites to offer merchants secure mobile credit card acceptance on an iPhone, iPad or iPod touch connected with the P25-M Printer.
Rapadev LLC, an IT consulting and software development firm, developed iPay POS an iPhone credit card processing software compatible with Blue Bamboo's P25-M printer. iPay POS is a PA-DSS certified payment application for Apple iPhone, iPod touch and iPad and works over any available network connection. With multi-gateway support, iPay POS is an agnostic solution without specific account or gateway requirements, giving iPhone, iPad and iPod touch users an opportunity to couple the app with the P25-M for swiped mobile transaction and on the spot receipt printing. In addition to performing authorizations, captures, voids and credits, iPay POS is a feature rich application with the ability to capture signatures, GPS tag transactions, store recurring information in multiple databases. iPay POS Credit Card Terminal is a universal application containing both iPhone and iPad versions, available as a free download as a limited trial in the AppStore. The iPay application is also MFi approved to work with the Blue Bamboo P25-M.
If you are interested in this solution, please register with Apple to obtain the P25-M protocol string for approved applications. Blue Bamboo will continue to offer the easy and inexpensive option of private labeling the P25-M to solution providers, along with custom color schemes to match brand identities. The P25-M is already available for many other smart phones on the market.
About Blue Bamboo
Blue Bamboo designs and markets feature-rich and exceptionally affordable products for the POS terminal and peripherals industry. Blue Bamboo's robust electronic payment technology delivers scalable, customer-centric wireless and retail payment solutions which meet PCI and EMV standards in a secure, reliable and versatile design. Visit
www.bluebamboo.com
*"Made for iPod," "Made for iPhone," and "Made for iPad" mean that an electronic accessory has been designed to connect specifically to iPod touch, iPhone, or iPad, repectively, and has been certified by the developer to meet Apple performance standards. Apple is not responsible for the operation of this device or its compliance with safety and regulatory standards. Please note that the use of this accessory with iPod touch, iPhone, or iPad may affect wireless performance. iPhone, iPod touch, and iPad are trademarks of Apple Inc.