New Baby Flash Cards Helps Babies and Toddlers with Vocabulary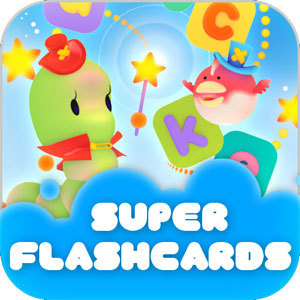 Following their success with the hit nursery rhymes app
'Sing with Olive'
, Swag Soft LLP from Singapore has released a new iPhone app featuring a set of more than 170 beautifully rendered 3D graphics flash cards on the Apple iTunes store, designed to help babies and toddlers learn new words.
Featuring cartoon characters from the award-winning preschooler cartoon series Katakune, Katakune Super
Baby Flash Cards
teaches babies and young kids more than 170 everyday commonly used words from different categories such as animals, clothing, colors, food, fruits, gadgets, nature, numbers, sports, space, vehicles and more through 3D rendered graphics.
Spending more than 4 months in production, the graphics featured on this app was designed by award-winning
3D animation
studio MediaFreaks. Parents and kids will be delighted by the colourful and detailed artwork.
An early tester had this to say about the flash cards - "This is definitely the most comprehensive and beautiful set of Flash Cards ever made! Most other flash card apps simply pale in comparison!"
A reviewer from Apps Playground said, "What I like about this app is the graphics, which are beautiful in comparison to some of the low-budget rivals."
Besides the huge number of words being taught, every flash card also comes with a voiceover to let young kids learn how to pronounce the corresponding featured item. Categories can be toggled on and off to design a child's learning curriculum and an inbuilt testing feature allows kids to be tested on what they have learned.
Launching at only 99 cents for a limited time, 'Katakune Super Flash Cards' is a steal for the exceptional educational value and high quality graphics it provides.
The iPad version will also be available soon in the iTunes store.
Follow the link to find out more about
Katakune Super Flash Cards
.
Aldric Chang - Executive Producer for Swag Soft and Creator of the award-winning Travels of Wiglington and Wenks Virtual World - says, "Like all the products my colleagues and I have created, we have put in a great deal of effort to make Katakune Super Flash Cards the best product of its kind. I am certain parents will find great pleasure in seeing their young ones learn so many new words through such an enjoyable and fun app."
ABOUT SWAGSOFT LLP
Established by award-winning veteran media professionals from the animation and gaming industries with a combined 20 years' worth of solid experience, Swag Soft is focused on producing the
best iPhone apps for kids
and innovative apps which deliver great positive experiences.
About KATAKUNE
Katakune is an award-winning 3D cartoon series for preschoolers featuring a cute silkworm and his group of colorful friends from Tazzle Land.
About ALDRIC CHANG
Aldric Chang
is the founder of award-winning animation studio MediaFreaks and a creative entrepreneur with business interests in virtual worlds, mobile apps, animation, cartoons, interactive digital media, internet marketing, web 2.0 and music. He is also the Creator of award-winning virtual world for kids - The Travels of Wiglington and Wenks.