Mushrooms Come Out for the Holidays: Happy, Healthy, Fun Growing Shiitakes on Logs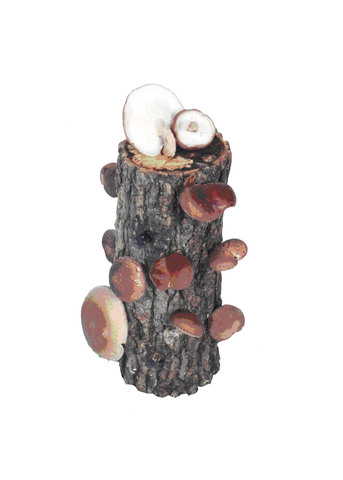 Shiitakes top the list as the world's best-loved gourmet mushrooms. For gardeners and mushroom lovers, a shiitake log from Lost Creek Mushroom Farm tops the gift list. All-natural hardwood logs produce the highest quality shiitakes, growing indoors like house plants or outdoors in shade. Soak them in ice water and they'll pop out shiitakes every two months for years.
Flavorful, meaty, high protein-low fat shiitakes stimulate and boost the immune system. They contribute to healthy hearts, healthy blood, and younger-looking skin.
"There's more," according to the Mushroom Lady, Sandra Williams, Ph.D., of Lost Creek Mushroom Farm, "Mushrooms affect our emotional well being, much as flower essences do. Shiitakes can infuse us with feelings of joy. They help heal sadness and grief, especially grief from the past. That brings a whole new meaning to mushroom gravy."
Sandra and her husband Doug have been shiitake farmers for over 25 years. "We soak the logs in ice water and 'shock' them into sprouting mushrooms," she explained. "Little mushroom buds, called pins, push through the bark, and in 6-10 days your fresh shiitakes are ready to harvest and enjoy."
"Even after years of raising shiitakes, we still love to see them pin and blossom into beautiful dark brown mushrooms ringed with little white stars. Kids love to see something that looks like an ordinary chunk of tree 'bloom' with shiitakes."
Lost Creek Mushroom Farm kits come in a range of sizes and prices, including a 10-inch log for $29.95 and Ma & Pa Kits, at $49.95: two 10-inch logs that provide mushrooms every month by alternating the producing log. Prices include shipping. Kits include ready-to-fruit hardwood logs, instructions, and recipes. The logs are guaranteed to grow shiitakes.
Gift baskets, "Shiitake Happens" bumper stickers, cookbooks and more are available at the Lost Creek Mushroom Farm website,
www.shiitakemushroomlog.com
.
Lost Creek donates a portion of sales to their Mushrooms in Ghana Project (mushroomsinghana.org), following the Williams' volunteer assignment as mushroom consultants. "Small-scale mushroom farmers in Ghana are proving that mushroom production can be an effective tool for alleviating poverty," the Mushroom Lady said.
Order online and learn more about shiitake logs at
www.shiitakemushroomlog.com
. The number for phone orders or a free brochure is 800-792-0053. Mail orders go to Lost Creek Mushroom Farm, PO Box 520, Perkins, OK 74059. Lost Creek Mushroom Farm kits are also available at
Amazon.com
.
Email Lost Creek Mushroom Farm