Christmas Cash Loans Providing Extra Cash This Xmas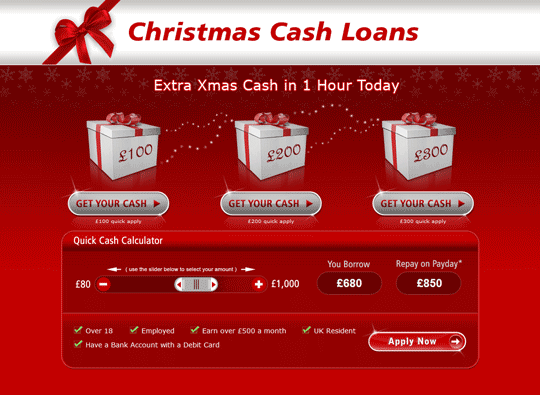 Christmas Cash Loans, a Payday Power trading name, went live yesterday evening in anticipation of the Xmas rush for extra cash during the festive season.
Michael, the Marketing Director says of the need for the website that "we always see a huge influx of applications on our main website, Payday Power, at around this time, up until mid-January and we thought it appropriate to build a really simple website themed around Christmas to show people that 'yes, I don't have to struggle and I can get the cash I need today' – which is what we are all about.". He goes on to say of the application process that "The same rules apply as on the
Payday Power website
, but we have stripped the new site down to just the essential information that customers really want to know. Such as how much it will cost them? And how soon they can get their cash?"
Loans are charged at the industry standard rates of £25 for every £100 borrowed and to save any calculations, there is a simple slider on the homepage, which shows customers just how much they can borrow and will have to repay. The application process is automated so there is not waiting for the loan to be approved and authorised, with cash paid into customers bank accounts in around 1 hour of application.
Matt, the web designer for the project, says of the website that he wanted "to do something a little different for a financial site – I tried to make it as fun and friendly as possible and show more of the spirits of Christmas cheer and I am very happy with it".
Payday lending in the UK
has risen sharply in recent years and as can be seen in Google trends, there is always a large rise in payday loan searches over the Xmas period, which Christmas Cash Loans hopes to facilitate.
Email Christmas Cash Loans