AVALON WATERWAYS PICKED "BEST RIVER CRUISE LINE" BY CRUISE CRITIC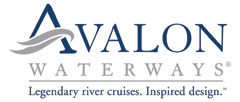 Cruise Critic (
www.cruisecritic.com
), the world's largest cruise reviews site, just revealed its 2010 Editors' Picks Award winners, naming
Avalon Waterways
the world's "Best River Cruise Line."
To determine winners in 20 categories, ranging from "Best for Families" to "Best for Budget-Friendly Cruising," Cruise Critic editors evaluated cruise lines and ships according to the types of passengers to whom they cater. Then they compared, like-for-like, aiming to honor the very best cruise companies and highlight their particular strengths.
"Since unveiling Avalon Waterways in 2004, we have been inspired to create a different kind of river cruise experience – one that embraces and celebrates everything special about this travel style," said Patrick Clark, managing director of Avalon Waterways. "And, every year, we reveal new innovations to enhance cruisers' experiences and it's thrilling to witness that work appreciated not only by our travelers but also by Cruise Critic's editors and cruise experts."
Avalon Waterways is the only River Cruise line to be included among Cruise Critic's 2010 US Editors' Pick Awards.
ABOUT AVALON WATERWAYS
Award-winning Avalon Waterways offers travelers the youngest, most innovative fleet of ships in Europe, China, Egypt and the Galápagos. Our travelers have inspired us to utilize more than 80 years of travel expertise to design the best river cruise experience possible. We've taken everything special about river cruising and made it even better-down to the last detail. Our views are panoramic and spaces large and inviting; comfort is king and dining both personal and flexible. And, thanks to our partnership with Globus, our itineraries are legendary. By design, Avalon cruisers are privy to all-inclusive access to a destination, including guided sightseeing in every port, VIP entry into key destinations and unparalleled cultural immersion and storytelling thanks to highly skilled Cruise and Tour Directors. In addition to countless trade accolades, Avalon Waterways has garnered some of the industry's most prestigious honors: Among them, the river cruise company was voted the No. 2 Best Small-Ship Cruise Line in Travel + Leisure's 2009 and 2010 World's Best Awards, chosen as the "Best Value in River Cruising" by Arthur Frommer's Budget Travel, featured in Condé Nast Traveler's 2009 and 2010 Gold Lists and chosen as the "Best River Cruise Line" in Cruise Critic's 2010 Editors' Pick Awards. Avalon Waterways is part of the Globus family of brands.
Consumers can book an Avalon Waterways vacation or request brochures by visiting a preferred travel agent or by calling the following toll free number: 1.877.380.1535. For more information, please visit
www.avalonwaterways.com
.