Announcing Organic Soul: A new, unique website that focuses on natural, pure, and sustainable living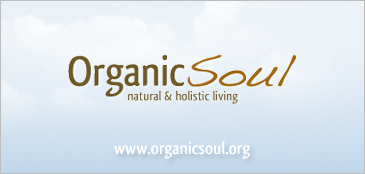 It's time that the so called 'green revolution' took another step in the right direction, and Organic Soul, a youthful and determined website, is prepared to grab the reins. Their philosophy is clear: natural and pure living should go hand in hand with sustainability. More importantly, living with the environment in mind isn't a trend or a fashion statement; it's a necessity for a better way of life. Too many "green" websites or blogs are only concerned with keeping in vogue and promoting their product, which is usually an overpriced reusable handbag. Little of the time do they focus on real solutions, let alone real problems. Organic Soul is different; they focus on practical, every day approaches to sustainability, natural living, and health and wellness.
Organic Soul considers itself a reliable, personable source for organic and environmental "know-how". Content is generated by everyday people, for everyday people. Contributors for Organic Soul range from college students, to mothers, to experienced internet journalists and even acclaimed doctors. Despite the variety, there is one common denominator: an appetite for excellence, and desire for practical knowledge. From replacements for the home to critical examinations on environmental policy, Organic Soul's content is driven by professionalism. Ethically keeping with principles of journalistic integrity, Organic Soul is dedicated to providing the most recent and reputable information.
While Organic Soul encourages its users to pursue a more eco-conscious lifestyle, the website follows its own advice and operates off solar and wind hosting. Organic Soul, by technical terms, is 100 percent carbon neutral. In their view, running a business or providing a service, even if it is for a good cause, does not make a company or website exempt from following ethical guidelines. That said, Organic Soul supports corporate social responsibility, public awareness of business practices, and the Triple Bottom Line (people, planet, profit).
The background of Organic Soul is an interesting one. Founded by Jameson Morris, a 22-year-old musician and web designer with a passion for natural and holistic living, the blog was destined to adopt a vision and following unlike any other environmentally focused website. Today, Organic Soul enjoys a fan base rich with diversity. Having over 11,500 followers (likes) on Facebook within the first four months of development, Organic Soul looks to the future with promise and confidence.