New Distribution Screw for Pneumatic Conveying System to Reload Dry Material Dispensing Machines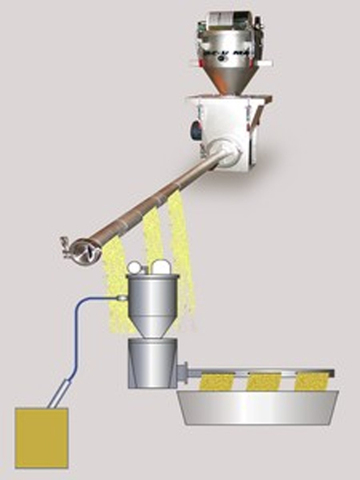 To fulfill the need for a more automated method for even distribution of product in topping machines, VAC-U-MAX, the pioneer in vacuum conveying systems and support equipment for conveying, batching, and weighing materials, developed a distribution screw that works in concert with a
pneumatic conveying system
to uniformly deliver product across dry material dispensing machines.
Routinely, hoppers that deliver product to dispensing machines via a pneumatic conveying system are located directly above the topping machines resulting in dry materials congregating in the center of topping machines. This requires an operator to periodically spread the material in the topping machine by hand to ensure product is evenly distributed in the machines.
With extensive industry experience in the baking, snack and candy arenas, VAC-U-MAX combines modern electronic technology with innovative mechanical and pneumatic design to customize a
pneumatic conveying system
that performs sophisticated operations with little human assistance, delivers flexibility, integration and efficiency that have long been sought after.
The new distribution screw for dry material dispensing machines features a long extension tube with adjustable slots that attaches to an existing pneumatic conveying system. The distribution screw facilitates even distribution of the material across the dispensing machine and is controlled by a level control placed in a hopper, eliminating the need for operators to monitor machines.
The distribution screw is an ideal solution to distribute flour, nonpareils, seeds, starch and other dry materials.
For nearly 60 years, VAC-U-MAX has provided a wide range of standard pneumatic conveying systems, weighing systems and accessories, plus semi-custom systems, as well as totally custom-engineered systems. They offer factory testing of trial materials, as well as installation assistance and full maintenance documentation. They are the provider of choice of many well-known companies in the food, drug, and industrial manufacturing sectors.
For more information about a VAC-U-MAX
pneumatic conveying system
or other pneumatic material handling solutions, write to them at 37 Rutgers Street, Belleville, NJ 07109; call (888)241-6992 or (973) 759-4600; e-mail
info@vac-u-max.com
; or visit their website
www.vac-u-max.com
.