Vampire Labs Introduces VampireSmart™ Chargers, a More Intelligent Way to Charge Mobile Devices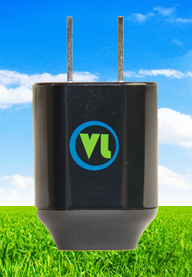 Austin, TX — Vampire Labs' VampireSmart™ Chargers combat vampire energy loss that occurs when a charger is left plugged into an outlet or when the phone, MP3 player, or digital camera is fully charged. The VampireSmart™ charger addresses the flow of electricity that is wasted with standard chargers. Last year in the U.S., vampire energy loss was responsible for $10 Billion in wasted electricity not to mention the billions of tons of unnecessary, climate-warming CO2 emissions that resulted from the energy waste.
"These new charging options will make a necessary and fundamental impact on energy use in electronic devices that quietly dominate the energy supply across the globe," according to Vampire Labs' VP of Marketing, Hugh Thompson. "Our desire is to influence how consumers draw energy and ultimately see all electronic devices use their energy more efficiently."
The VampireSmart™ Charger reduces vampire energy loss by up to 90% and is one of the most eco-friendly and travelable chargers on the market due to the low impact, unique design, and rapid charging ability. For those on the go that keep their planetary impact in mind, the VampireSmart™ Charger is the perfect fit:
* Eco-friendly and uber-travelable in size (slightly larger than a quarter) with a sleek, durable design – no more wall warts in your house, blocking other usable outlets, or taking up extra room in your purse, bag, or briefcase.
* USB Charger compatible with any USB charging cord.
* Compatible with most smart phones, MP3 players, and digital cameras that use a USB data cable to charge.
* High power conversion efficiency charges your device quickly and with lower energy waste.
* 5V @ 1A USB Compliant Charger
* Component materials and packaging were sourced with the planet in mind.
* RoHS compliant.
* EnergyStar 2.0 compliant.
Visit
www.vampirelabs.com
to get your VampireSmart™ Charger today for the low price of $16.99 with standard shipping included. Retailers and resellers interested in VampireSmart™ Chargers are encouraged to contact Vampire Labs at 800-391-5018
About Vampire Labs:
Headquartered in Austin, TX, Vampire Labs, LLC is improving energy efficiency within the world's most ubiquitous electronic devices. As demand exponentially grows across the globe for communication devices, such as mobile phones, MP3 players, laptops, servers, networking equipment, and home entertainment products, so increases the strain on the energy supply to support them. Learn more at
www.vampirelabs.com
.