Atlantic Coast Media Group and Hudson County Jaycees Applauded By Senator Menendez As They Distribute 350 Turkeys To Area Residents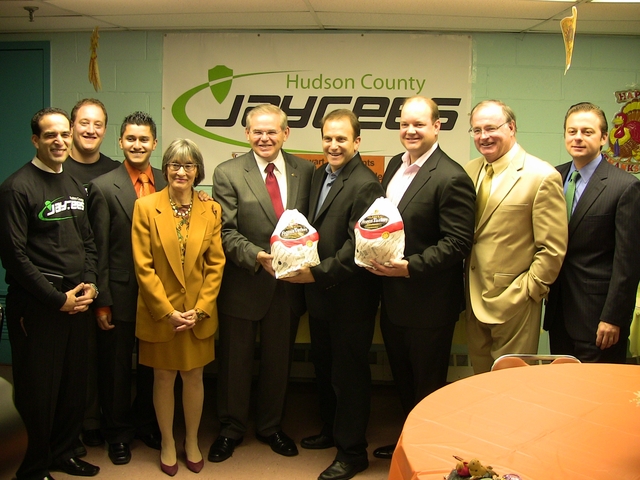 Jersey City, NJ, December 1, 2010 – Senator Robert Menendez, Mayor Jerramiah Healy and others looked on with approval as volunteers from
Atlantic Coast Media Group
(ACMG) and the
Hudson County Jaycees
passed out 350 turkeys to residents of the Jersey City and Hoboken Housing Authorities last week.
The day began at noon with remarks by Senator Menendez, ACMG co-CEO Andrew Surwilo, and Hudson County Jaycees President Zach Edelman at the JC Housing Authority senior residential building at 88 Erie Street downtown. The truck with the turkeys continued to the JCHA's Curries Woods facility and then on to two locations in Hoboken.
Jaycees President Zach Edelman: "Atlantic Coast Media Group is among the most dynamic new businesses in Hudson County. They are providing new jobs and engaging in philanthropy at a time when it could not be more crucial for our communities. We are so grateful to them."
Atlantic Coast Media Group co-CEO Andrew Surwilo: "Tom [co-CEO Thomas Shipley] and I feel that a great way to express our thanks at growing to 350 employees is to donate 350 turkeys to the community for Thanksgiving. This is only the beginning of our partnership with outstanding civic organizations like the Jaycees as we continue to look for opportunities to help our neighbors here in Hudson County."
About Atlantic Coast Media Group:
Atlantic Coast Media Group was founded in 2005 by Andrew Surwilo and Thomas Shipley, two direct response marketing professionals with over 30 years of combined experience in product development, direct marketing and managing innovative and successful on-line and off-line marketing and media campaigns.
Today, ACMG is among the leading national, multi-channel personal care marketers focused on meeting the personal and lifestyle improvement needs of Baby Boomers. ACMG has created some of the most innovative, high quality nutraceutical and cosmeceutical products available in the health and beauty marketplace today including the innovative Hydroxatone® line of skincare products.
Email Atlantic Coast Media Group