UK company introduces water softener alternative to the USA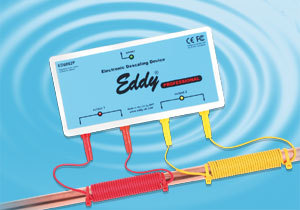 UK Company Eddy Water Descalers, manufacturer of the highly successful solution to hard water in the UK, the Eddy electronic descaler, have recently launched a new website to introduce their product to consumers in the USA. The Eddy descaler has sold many thousands of units in the UK as an alternative to salt based water softeners. Their unit uses an easily installed and cost effective electronic system to treat water using coils of wire placed around the incoming water pipe. The device requires no plumbing and can easily be fitted in a few minutes by the householder. In many cases the results compare very favorably with those offered by conventional water softeners.
A company spokesman commented, "As in the UK, more than 60% of USA properties suffer from hard water. A ban on salt based water softeners is becoming a distinct reality in some states of the USA. We're very excited to be bringing an alternative to the water softener to the US consumer. Many thousands of UK householders have been most grateful to find an alternative to conventional salt-based water softener systems, and we believe that customers in the USA will be quick to see the benefits of the Eddy electronic descaler at a very affordable price point. We're very proud of Eddy and show this by backing the product with our 12 month satisfaction or money-back warranty".
The new USA based website can be found at
www.water-softener-alternative.net
Email Eddy Water Descalers