Atlantic Coast Media Group Donates Turkeys, Volunteers to Cunningham-Sponsored Charity Event For Thanksgiving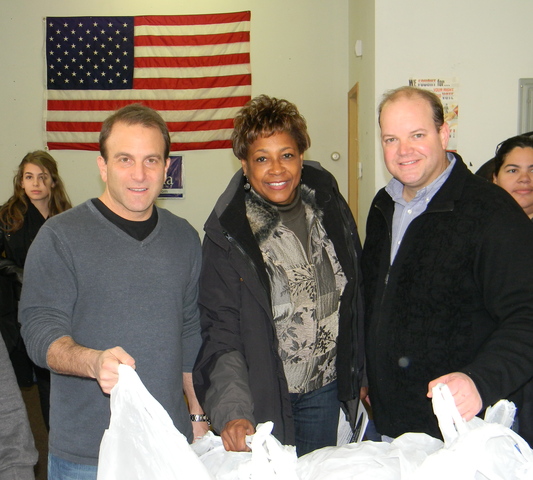 Jersey City, NJ, December 9, 2010 –
Atlantic Coast Media Group
CEOs Thomas Shipley and Andrew Surwilo rolled up their sleeves alongside other volunteers in Jersey City last month to help pass out the turkeys and boxes of stuffing donated by their company for the Thanksgiving holiday.
The event took place on the Saturday before Thanksgiving at State Senator Sandra Cunningham's political club. Every year Senator Cunningham has a list of local folks in need of turkeys and stuffing for the Thanksgiving holiday and ACMG obliged with a donation for the birds and some Stove Top Stuffing for each grateful resident.
On Saturday morning, Surwilo and Shipley participated in the turkey assembly line, handing down the birds from person to person, making certain that nobody waited longer than necessary for their turkey and stuffing.
For the event, ACMG donated 350 turkeys and boxes of stuffing to commemorate the hiring of their 350th employee. Atlantic Coast Media Group also donated 350 turkeys to the Jersey City and Hoboken Housing Authorities in a separate event attended by US Senator Robert Menendez.
"We really had a great time," said Shipley, "All of our volunteers, from Atlantic Coast Media Group employees to members of my family, had a fun and fulfilling afternoon working with Senator Cunningham."
He concluded, "We wish it weren't necessary but as long as it is, Atlantic Coast Media Group will be here for needy families during the holiday season."
Assemblyman Charles Mainor and Hudson County Freeholder Jeff Dublin were also on hand to assist in handing out the birds.
About Atlantic Coast Media Group:
Atlantic Coast Media Group was founded in 2005 by Andrew Surwilo and Thomas Shipley, two direct response marketing professionals with over 30 years of combined experience in product development, direct marketing and managing innovative and successful on-line and off-line marketing and media campaigns.
Today, ACMG is among the leading national, multi-channel personal care marketers focused on meeting the personal and lifestyle improvement needs of Baby Boomers. ACMG has created some of the most innovative, high quality nutraceutical and cosmaceutical products available in the health and beauty marketplace today including the innovative Hydroxatone® line of skincare products and Hydrolyze® Advanced Under Eye Formula.
Founders Andrew Surwilo and Thomas Shipley were recently named Finalists for Ernst & Young's 2010 Entrepreneurs of the Year Award. And ACMG was just named to Inc. Magazine's list of the top 500 fastest growing companies in the country.
Email Atlantic Coast Media Group