Fikes Truck Line Volunteers Trailer for Wreaths Across America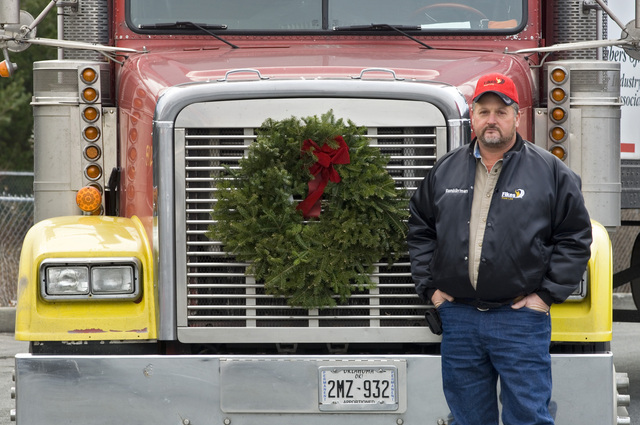 Fikes Truck Line
is a proud transportation supporter of Wreaths Across America (WAA), a non-profit organization that aims to place holiday wreaths at veteran cemeteries across the United States on Wreaths Across America™ Day, an annual event slated for the second Saturday each December. Jeff Edmonson, a
Fikes
owner operator since June of 2006, loaded a trailer with wreaths in Harrington, Maine on December 1, 2010. Over the following week, he delivered wreaths to cemeteries in Alabama and Louisiana. Destinations included: Birmingham, Montgomery, Mobile, Baton Rouge, and Fort Hudson. Edmonson was greeted at each stop by volunteers, ready to unload the fresh wreaths from Maine.
Inspired by fellow trucking executive Neal Pottle, Gary Salisbury, Fikes President and CEO, told WAA that they could count on
Fikes Truck Line
to be involved in the transportation of wreaths.
"So many people are forgotten in these cemeteries. Yet these heroes have given the ultimate sacrifice for us. This is just a small gesture to honor and remember their lives," said Salisbury.
WAA was born in 2006 out of a desire to honor and respect American servicemen and women for their significant contributions in preserving our Nation's freedoms. Originally started by Morrill Worcester and Worcester Wreath Company of Harrington Maine in 1992, it has become an annual tradition to lay holiday wreaths at the grave-markers of our fallen veterans during the holidays, as a way to express appreciation and to pay tribute for the past, present, and future sacrifices made for our Country. Today, over 350 locations across the country receive the wreaths and perform remembrance ceremonies.
"I'm honored and humbled to be hauling these wreaths," said Edmonson, "Since being on the road and meeting the people in Harrington, ME I've already indicated to Fikes to sign me up for next year."
Fikes Truck Line
and their sister company
FTL Logistics
, offer coast-to-coast transportation services specializing in flatbed, heavy haul and van. For more information on Fikes Truck Line or FTL Logistics visit fikes.com and goftl.com or call 1-800-643-6611.
Wreaths Across America™, a non-profit 501-c3 organization, was formed as an extension of the Arlington Wreath Project. The Arlington Wreath program was started by Morrill Worcester of Worcester Wreath in 1992 with the donation and laying of 5000 Christmas wreaths to Arlington National Cemetery. For more information visit wreathsacrossamerica.org.