Pacarama.com, the first website to specialize in the search and booking of hotels in Peru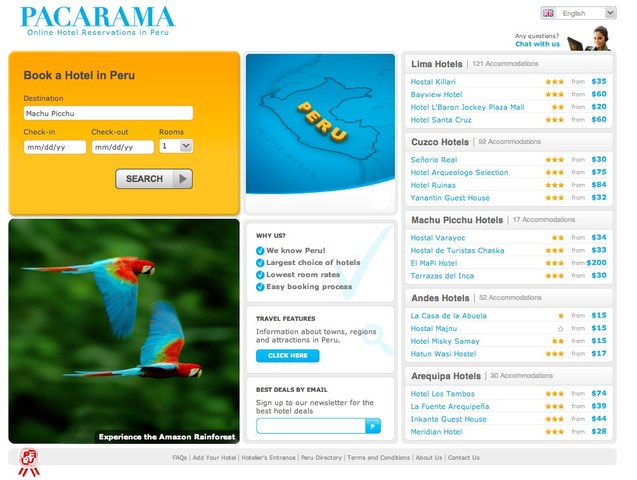 In response to the rise in tourism in Peru generated by both domestic and international tourists, Pacarama.com has positioned itself as the premier website for the search and booking of hotels exclusively in Peru. It enables website visitors to consult the availability of hotel rooms in various tourist destinations nationwide, providing them with real-time information about the type and quantity of available rooms and the rates which correspond to their desired dates of stay.
Unlike other hotel search engines, Pacarama specializes in
hotels in Peru
and offers the largest database of Peruvian hotels available for booking. Website visitors will not only find
hotels in Machu Picchu
and Lima, very popular destinations on an international level, but domestically popular destinations as well, including Máncora, Cajamarca, Chiclayo, Iquitos and many other cities.
Making a reservation is simple, requiring only a guarantee payment equivalent to approximately 10% of the total cost of the booking and payable via debit card, credit card or PayPal. The entire system is fully automated and once the guarantee payment has been made both the hotel and the client are immediately notified. Once the client has received his booking confirmation he can rest assured that his room will be ready and waiting for him upon his arrival, at which point he can then pay the remaining balance to the hotel.
Pacarama.com offers its services in both English and Spanish and features an ample selection of hotels that vary widely in both price range and star rating, from backpackers' hostels to five-star luxury hotels.
In 2011 the company plans to expand its base of affiliated Peruvian hotels considerably, as well as branch out to offer hotels in other South American countries.