Dog News Daily Selects Top 10 Dog Products Of 2010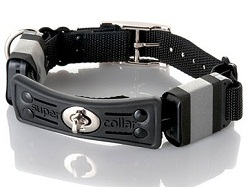 Dec 29, 2010 – Los Angeles, CA -
DogNewsDaily.com
, publisher of the largest dog product directory on the Internet, has just released its much anticipated list of the Top 10 Dog Products of 2010, and leading the list is the supercollar ® which was judged Best New Product of 2010 by Dog News Daily editors who reviewed over 400 products during 2010.
The supercollar® is an innovative, collar and leash "hybrid" that replaces the traditional separate collar and leash. The built-in retractable leash allows dog owners to gain immediate control of their dog, instead of having to take the time to attach a leash.
According to Alan Siskind, publisher of Dog News Daily, " The dog portion of the pet industry will surpass $32 billion in 2010 which made our job of selecting this year's best dog products a difficult one, but one we had great fun doing since it helps our 200,000 monthly readers learn about all the new products available for their tail wagging family members."
Dog News Daily's other Top 10 Dog Products of 2010 include:
Dog Food - Chewy's Chicken Freeze Dried Dinner by Stella & Chewy's
The entire line of all natural freeze dried dinners and treats are all winners in our book, and are definitely worth paying a little bit more for.
Dog Treat - Shortbread Cookies by Exclusively Pet
You'll have to hide these incredible tasting cookies to keep your dog from devouring the whole box at once. This is just one of many terrific products from this artisan bakery.
Dog Fashion - The Bathrobe Collection by Romy & Jacob
The perfect gift for any style conscious canine. Ideal for after a swim, bath, massage, or for just cuddling on the couch
Skin Care Product - Skin Rescue Lotion by DerMagic
Give your dog instant relief from hot spots, insect bites and other skin irritations with this all natural, lightly scented lotion that works like a miracle.
Shampoo - Papaya Plus 2-in-1 Shampoo by Tropiclean
This great smelling all natural conditioning shampoo makes washing your dog almost enjoyable since it saves time by having the conditioner and shampoo pre-mixed
Dog Carrier - The Amelia Tote on Wheels by Sherpa Pet
You can use this light weight 3-in-1 tote as a back pack, tote, or rolled carrier so no matter where you need to go, you'll always be able to take your best friend with you.
Car Safety Product - The Auto Zip Line by Kurgo
This easy to use zip line and harness lets you safely secure your dog in the back seat while letting it have enough room to roam and look out the window.
Leash - The Kujo by Ezy Dog
This shock absorbing leash with its comfortable, ergonomically designed water ski handle type of grip has just enough stretch to give you complete control over your dog.
Dog Bed – The Co-Sleeper Pet Bunk Bed by Arms Reach
Now your dog can sleep next to you without taking up any room in bed. This clever adaptation of the manufacturer's best selling baby bassinet lets your dog sleep next to you in the comfort of its own bed.
About Dog News Daily
DOG NEWS DAILY is a Los Angeles-based digital media company that publishes DogNewsDaily.com, the most popular and fastest growing online dog magazine. The company also produces more original dog-related video content, including its famous celebrity dog owner interviews and dog friendly hotel reviews, than any other pet magazine. The company was founded in 2008 by Alan Siskind, the pet industry marketing expert who is also one of the country's leading authorities on the economic and social impact of the humanization of dogs in America.
For more information please visit
http://www.dognewsdaily.com