The Owners of Flooring America in Lakeland, FL Release New Website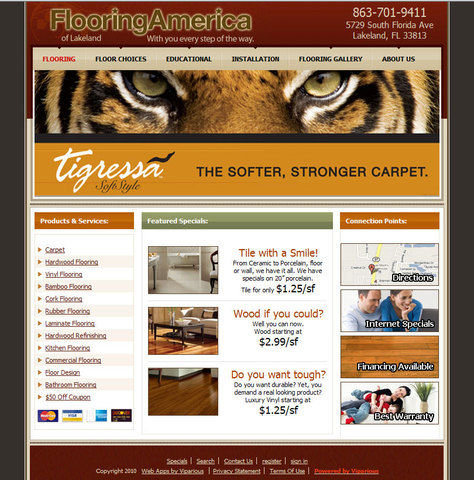 Flooring America
, located in Lakeland, FL launched a new and informative website this morning. This new website is very user-friendly and gives potential customers the opportunity to see all of their available products and services. The site provides helpful information on a wide range of flooring options and services, including carpet, wood and laminate flooring and even some of the harder to find types of flooring.
The owners of Flooring America, Tim and Barbara Riley, believe that "buying power" is why they can offer their flooring solutions at greatly reduced prices. This store is just one of over 500 Flooring America's and 100 Flooring Canada's stores and the combined buying power gives the owners a chance to offer their flooring products at the lowest possible price. In fact, Mr. Riley says that Flooring America beats the big box store's prices on every item they sell, including Carpet, Hardwood Flooring, Vinyl Flooring, Bamboo Flooring, Cork Flooring, Rubber Flooring, Laminate Flooring, Hardwood Refinishing, Kitchen Flooring, Commercial Flooring, Bathroom Flooring and Floor Design.
One of the most difficult aspects of a flooring project is choosing which flooring product will best suit a customer's needs. This is one area where Tim and Barbara believe that Flooring America exceeds expectations. By offering an experienced sales staff that is knowledge and helpful, Flooring America can help their customers find the right flooring to fit the overall design of the room. This design help is very appreciated by the company's current customers.
When it comes to determining which company offers the best prices, Tim said, "When you are about to purchase flooring, you should have three flooring companies measure and give you an estimate of the total cost. Then you will know which one will give you the best deal." He goes on to say that Flooring America's finial price often beats the other stores' prices who might offer flooring for less per square foot, but only because some stores charge you for waste or mis-measure. The total cost of the project is where customers will see the savings.
Residents of Lakeland, FL can cash in the savings, too. This locally owned store offers interest free financing to Lakeland, FL residents. In addition, simply by completing the online contact form, customers will receive a free in-home or office measurement and estimate, plus a coupon for $50 off the total cost of their project. The estimate will include the price of the flooring products, installation, and all associated costs.
Flooring America provides their customers with a complete and total solution to their flooring needs. The wide range of products is unmatched and their sales staff will answer any customer's questions. The innovative website design is easy to navigate and full of information on the different types of flooring available. Flooring America gives Lakeland Florida residents a new choice for all their flooring needs.
Contact:
Tim and Barbara Riley
Flooring America of Lakeland
5729 S. Florida Ave
Lakeland, FL 33813
Phone: (863) 701-9411
Fax: (863) 701-9511
Website:
www.flooringamericaoflakeland.com
Email Flooring America of Lakeland