WorkingPerson.com Takes a Minimalist Approach to Online Payments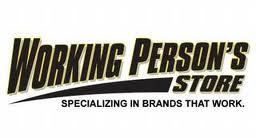 LAKEVILLE, Ind. – Online customers of
WorkingPerson.com
can now take advantage of more secure and efficient payment processing thanks to its recent partnership with First National Bank. The partnership will provide for more secure data keeping, while requiring less customer information at checkout.
"We are constantly seeking ways to make our online shopping experience better overall and more secure. We are especially excited about what this partnership means for our customers," said Eric Deniger, CEO of WorkingPerson.com. "Online customers expect quick, easy and secure transactions. This partnership will allow for even more secure processing and will require less customer information."
"We are excited to work with Working Person's to help them achieve their goals of offering their customers more secure and efficient processing," said Chris Shanahan, senior electronics payments consultant at First National Bank. "Working Person's Store is a recognized leader in this industry and we absolutely value our relationship with them. We look forward to helping them achieve their goal of excellent service for their customers."
First National Merchant Solutions LLC is a top-10 payment processor providing service and solutions to businesses across North America. For more than 50 years, customers have relied on the company's expertise and dedication to meet their long-term business and processing needs. First National Merchant Solutions combines the industry resources of TSYS, one of the world's largest companies for outsourced payment services, and First National Bank of Omaha, one of the largest privately held banks in the U.S. For more information, visit
www.FirstNationalMerchants.com
.
Since 1995, WorkingPerson.com has grown into a leading multi-channel resource for quality work apparel, footwear and safety-gear. The store offers leading brands such as Carhartt, Dickies, Wolverine boots and shoes, Timberland PRO boots, Bates shoes and boots, Dr. Martens shoes, and over a hundred other name brands. The Lakeville, Ind., based company was named the third fastest growing e-retailer in America, has been a three-time winner of the Internet Retailer's Top 500 Award, has been picked as one of their Hot 100 Best Web Sites and has received a "Webby" Honoree Award.
Email http://Working Person.com