Despatch Industries Announces New Class A Benchtop Oven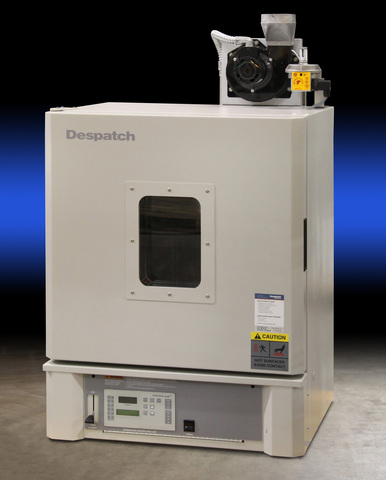 Despatch Industries, the world's leading thermal processing equipment provider for over one hundred years, announces its new LAC1-38 Class A benchtop oven. This custom oven was designed to meet Class A requirements for applications dealing with flammable solvents. The new LAC model offers temperatures of up to 260°C and a small footprint, ideal for laboratory applications.
"We designed this oven to meet our customer's specific process requirements," states Kim Meyer, Product Manager. "Our applications team has so much experience and knowledge and they are able to work with the customer to create new solutions or modify existing equipment to meet each customer's individual process requirements. Our customers appreciate this ability and it keeps them coming back to Despatch time and again."
The new LAC1-38 for Class A applications contains a UL industrial control panel and forced exhaust assembly with purge timer, a foil membrane pressure relief and an airflow switch to meet NFPA 86 requirements for working with flammables and solvents. All LAC model ovens feature uniform, horizontal airflow, an easy-to-use Protocol Plus controller, stainless steel interior and a maximum temperature of 260°C.
Despatch has specialized in thermal processing for over 100 years and is actively using this technical expertise to provide innovative solutions to critical applications in a broad range of markets and cutting edge technology worldwide.
For more information on Despatch, visit our website:
www.despatch.com
Email Despatch Industries