New weight-loss and nutrition App for iPhone and iPad helps solve the food puzzle through nutrition and technology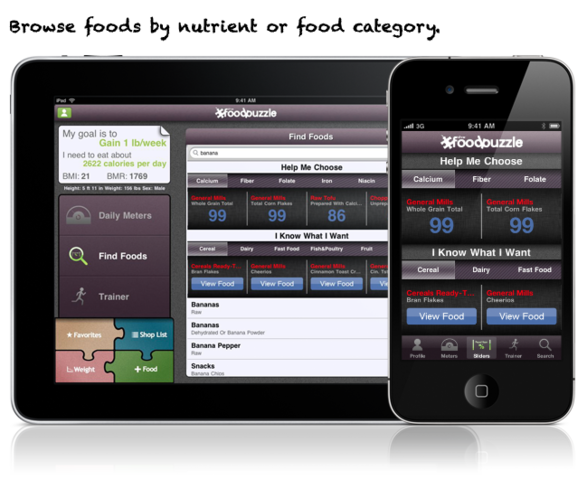 The Food Puzzle - new to the app store offers users a new way to keep New Years resolutions. The app is not a diet but rather a way to track all the nutrients needed in a day and in turn create healthier minded users - think vitamin content, calorie tracking, and self educating with the fun of a graphic app!
"Have you ever wondered just HOW much broccoli you need to eat? Or did you know that you get more potassium, which helps to regulate your blood pressure, from a baked potato than a banana?" With a database of over 7,000 foods and a fantastic user-friendly interface The Food Puzzle can work with just about any app lover to create a new relationship with food.
With this new tool users will begin to regain the ability to view and have a relationship with food just like children do before they are told how much to eat. As founder Elizabeth Sargent describes, "Once upon a time you ate when you were hungry and stopped when you were full. YOU ALREADY KNOW HOW TO DO THIS. Your body maintains its temperature and your blood pressure and you breathe without trying. You can do the same with food, but your mind – or your emotions has gotten in the way – so we are going to give your mind something to stay busy with. "
The Food Puzzle allows users to think about WHY they are eating. Over-eating is different than a drug addiction or alcoholism. Those who overeat cannot go cold turkey, and unlike a shopping addiction, when cutting up credit cards is all it takes cutting back on food doesn't work the same way.
Through this new take on nutrition, app lovers can begin to understand why they are eating – it is not for entertainment, but rather to make sure blood clots when skin gets a cut, and the immune system functions, blood pressure is regulated, bones stay strong and the brain receives oxygen and. Eating is responsible for keeping everyone alive and for regulating the quality of life. So can you love yourself enough to put a sweet potato into your mouth rather than a potato chip? What you choose to put into your mouth is of the utmost importance. The food puzzle makes it fun. Users get to watch their vitamin fill up and accomplish.
The Food Puzzle features an interface that allows for easy viewing of:
- Daily calories in and calories out
- Daily nutrition through vitamin levels
- BMI and BMR
- Personalized Shopping Lists
The Food Puzzle is not a dieting tool but rather a way to think about something other than being fat, losing weight, and eating. This app allows users to regain knowledge about food and create a new perspective on eating. Let The Food Puzzle dissolve your obsession with food and help you get your life back!
The Food Puzzle iPhone application is available for $2.99 at the Apple Store, App Store Link:
http://itunes.apple.com/us/app/the-food-puzzle/id409723700?mt=8
. A version designed specifically for the iPad is available for $5.99 in the iPad store as well.
Email The Food Puzzle LLC