ACOM Health Launches RAPID Practice Management 3.0 with Streamlined and Simplified Functionality for Chiropractors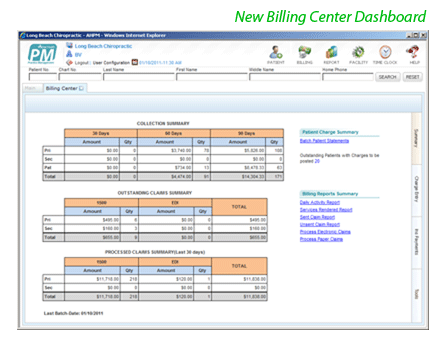 DULUTH, Georgia, January 10, 2011 – ACOM Health announces the availability of RAPID Practice Management 3.0
chiropractic software
, featuring enhancements that better coordinate patient flow from scheduling through discharge, expedite billing and collections, and expand the number and types of reports available for managing the efficiency and productivity of the practice, according to Vice President of Operations Libby Guntner.
"RAPID Practice Management 3.0 is a significant release for ACOM Health and for our chiropractor customers, closely following the announcement of ACOM Health's RAPID Chiropractic Software receiving certification," Guntner said. (RAPID Software received ONC-ATCB 2011/2012 EHR Module certification from CCHIT on Nov 18, 2010) "It streamlines and simplifies practice operations and further underscores our commitment to the success of chiropractors who look to ACOM Health for help in modernizing their clinics."
Among the capabilities of the new release:
* A new Report Builder maintains the existing portfolio of reports but allows chiropractors almost unlimited ability to view the information in their databases in any way they wish and manipulate it for purposes ranging from profit and loss calculations to marketing programming.
* A
Chiropractic Billing
Center "dashboard" that presents claims and collection summaries, provides fast and easy navigation through payment and charge records, and enables direct posting of new charges and review of past charges and balances from the billing center screen.
* Usability upgrades to greatly simplify frequent tasks, including a full-screen view option to schedule appointments, pre-register patients, redispose appointments as "no-show" or reschedules, and access insurance and/or co-pay information.
According to Guntner, upgrades to RAPID Practice Management 3.0 have already commenced and chiropractors/clinics under maintenance contracts can initiate the process easily by contacting RAPID Support at
rapidsupport@acom.com
and requesting to be scheduled for the update. Once the upgrade is set up on the server, it will take 15-30 minutes to update the software on the individual tablet computers and/or workstations in the office, depending on the number of units involved. The new RAPID Back Up product will also be installed, which will allow backups of up to 5GB of that clinic's practice management and/or personal data at no additional charge.
"We encourage our customers to log in for the new 3.0 upgrade as soon as possible in order to gain the benefits of this major advance in RAPID Practice Management functionality," Guntner said. "Improvement in clinic operations will be apparent immediately."
About ACOM Health
ACOM Health serves chiropractors with software and services that enhance efficiency, cut costs, and increase practice revenue. ACOM Health's RAPID Chiropractic Software Suite consists of Clinical Documentation and Notes; and Chiropractic Practice Management for billing, scheduling, patient management and detailed reporting. For more information, call 866-286-5315 ext. 216, email
acomhealth@acom.com
, or visit
http://www.acomhealth.com