Susan Rice Truffle Products To Be Presented By Food Blog South Conference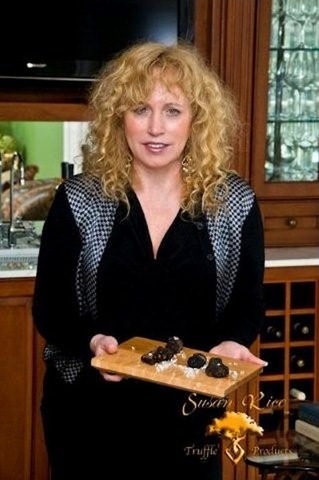 On January 22, 2011, Susan Rice Alexander will welcome attendees of Food Blog South, a food blogging conference in Birmingham, Alabama, to the sexy, mystical world of truffles. At the conference's social hour, Susan will present an American taste twist on a world famous gourmet food delicacy, the truffle, when she serves and speaks about Susan Rice Truffle Products™ ,
www.susanalexander-truffles.com
.
Susan established and is cultivating the largest truffle orchard in the United States and has been hailed as truffle producer extraordinaire by Dan Dumont, Certified Master Chef. She has been written up in USA Today, along with other top women CEOs, as well as in articles appearing on Bloomberg andMSNBC and numerous other media.
Susan Rice Truffle Products™ presents:
The Oozing Truffle Grilled Cheese Sandwich. Oozing with fresh sliced truffles
Gourmet Truffled Popcorn, hot air popped fine white corn, hand sprinkled with Black Perigord Truffles (the most expensive French truffle!!) and Summer Truffles, which will be served at the Food Blog South conference social hour
Gourmet Truffle Potato Chips, thin potato chips, hand sprinkled with fine truffles
To learn more about delicious and addictive Susan Rice Truffle Products™, go to
www.susanalexander-truffles.com
. If you would like a sample of Susan's famous Truffled Popcorn please contact Susan Rice Truffle Products™ at
info@susanalexander-truffles.com
.
Email Susan Rice Truffle Products™