Shirt and Tie Match Maker @ GentlemensAttire.com.au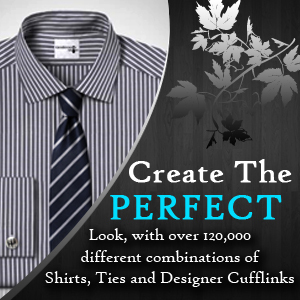 Introducing the world first
Shirt and Tie
feature from Gentlemensattire.com.au that gives customers an opportunity to mix and match over 120,000 combinations of Shirts, Ties and Cufflinks. Using this recently launched website feature, Gentlemen's Attire empowers its customers with a feature that solves the problem of matching a Shirt, Tie and even cufflinks to any ourfit.
From the board room to the dinner party, create the perfect look for every occasion. This Shirt and Tie feature is a truly useful and fun way to 'try on' different permutations and combinations of shirts, ties and cufflinks.
The owner Justin Brooks had this to say when asked about their new Shirt and Tie feature - "We wanted to give our customers a feature that improved the transparency of matching a shirt, tie and cufflinks. This feature removes the guesswork often involved with purchasing a shirt and accessories online and gives our customers a fun and time saving way to shop."
A convenient and time saving way to look your best, with a vast array of plain and striped shirts, plain, striped and pattern ties, and styles of
Designer Cufflinks
such as Ravi Ratan, Robert Graham, LOMA and more. This is a unique approach to an everyday problem.
For customers that still prefer to buy a Shirt and Tie 'pre-matched' Gentlemen's Attire also provides its pre-designed styles of shirt, tie and cufflink combinations. Expert stylists have created a variety of combinations based on the latest fashion and trends, to view the range please visit Shirt and Tie Combos page.
Gentlemen's Attire focuses its range on two distinct labels, The Black label range which is tailored with the utmost precision and detailing and the White Label range for the more budget conscious man.
Their Black Label
Collared Shirts
are crafted from 100% cotton fabric and feature crisp cuffs and collars. Other features include 2 ply British Cloth, mother of pearl collar stays, single needle stitching and more! Their Black Label ties are custom made in Como Italy by skilled master tailors and washed with French Marseille Soap for extra lustre and brilliance, a truly one of a kind Silk Necktie.
This feature does indeed improve on the lack of transparency often faced with buying and matching a Shirt and Tie and Cufflinks. Whether a customer is looking for exclusive, formal wear, casual clothing or office wear, this world first shirt and tie feature is a great way to shop! Visit
www.gentlemensattire.com.au/shirt-and-tie.html
for more information.