Helping to Improve the Lives of Kids with Chronic Conditions in the Middle East.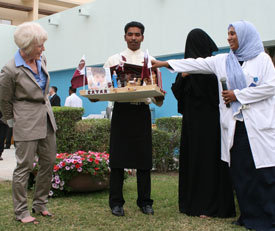 Doha, Qatar (February 2, 2011) — Twelve children who depend on a ventilator to breathe, including several who have never before been out of bed are now able to enjoy some of the simple pleasures in life, thanks to the hard work of health-care workers from
Holland Bloorview Kids Rehabilitation Hospital
,
The Hospital for Sick Children (SickKids)
and the Hamad Medical Corporation.
The 12 children were moved in early December from a pediatric intensive care step-down unit to a children's rehabilitation unit in Qatar's capital city of Doha. The unit offers more freedom for mobility, and is designed to support a variety of innovative, therapeutic programs not previously available in their acute hospital setting. "When we started working on this project, I met children who had never been out of bed before", says Chitra Gnanasebesan, Respiratory Therapist, Holland Bloorview. "Nearly two months after the move, many of these same children are up and interacting with their families and loved ones."
This move is a significant milestone in a venture between SickKids and Hamad Medical Corporation. A year ago, SickKids entered a partnership with Hamad Medical Corporation to advise on the development and operation of a brand-new state-of-the-art children's hospital in Doha. SickKids engaged Holland Bloorview, experts in pediatric rehab and complex continuing care, to consult on developing services for children who are chronically ventilated and build rehabilitation capacity for children with congenital and acquired medical conditions.
"It is rewarding to see our expertise and innovations being implemented in other parts of the globe and having a significant impact on improving the quality of life of children worldwide," says Cathy Seguin, Vice President of International Affairs at SickKids. "Our strategy is to share our knowledge and help other organizations build capacity in their own countries."
As the one-year anniversary of the partnership is marked on February 7, the changes at Hamad Medical Corporation (HMC) are already brightening the lives of children and their families. One staff member shared a story about a chronically ventilated inpatient boy and his twin sister. The little girl did not enjoy visiting her brother at the previous facility. Following the move to the new building, the twin came reluctantly to see her brother, not realizing how different it would be. Not long after arriving, she looked at her mother, and said "I want to come here every day."
"The development of what is now the Al Maha unit started eight years ago in an effort to provide a more appropriate environment for the children," said Dr Ibrahim Janahi, Senior Consultant and Head of Pediatric Pulmonology at HMC. "The new unit provides a more stimulating and more cheerful environment for the children and their families. We're also providing cost-efficient care, given that intensive care is generally more expensive."
"Working on this project in Qatar has been one of the most exciting projects of my career. It's simply amazing to work with clinicians who are taking such a significant leap forward in how they practice," says Irene Simpson, Clinical Manager and Project Advisor, Holland Bloorview.
Email Holland Bloorview Kids Rehab