Ocean's Reach and Sanibel Island: Building Community among Guests Is Good for All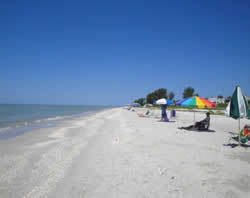 Sanibel Island, Florida–February 03, 2011– With 2 years now under its belt, the
Sanibel Blog
has become an increasingly popular and valuable source of information and connectivity for
Sanibel
Island's guests and residents.
Contributors Dru Doyle and Andy Boyle have attracted a loyal following of over 500 daily email subscribers with 100's more visiting the Ocean's Reach website to enjoy the latest news updates and
photos from Sanibel Island
. There's just something about this blog that reminds vacationers of the peace and tranquility available from the sun and warm beach down here on the Gulf. In fact, regular features such as "The 'Sunday Excursions with Andy' series was so popular and entertaining that I had a guest come into our office saying she wanted to sign up for Andy's tours", said Dru Doyle.
"Visitors up north love to start their day on Sanibel. Many have said that it is the first thing they read when they get out of bed," reports Dru, which certainly makes sense when winter is pummeling the rest of the country. Remembering those delightful days on the beach or the golf course is better than a coffee fix, especially when the weather outside is cold and dreary.
The Sanibel Blog also helps those who are planning their first vacation at Ocean's Reach. "Guests of Ocean's Reach who sign up for the daily blog say that it helps them prepare for their trip, and when they arrive they say that they feel like they are home." Driving across the causeway from Ft Myers to Sanibel Island is more like coming home, especially for those who have been following Dru and Andy's colorful, informative blogs. Their habitual biking around the island has allowed them to capture great photos of local color and familiar faces for everyone to enjoy.
The Sanibel Blog is more than a tourist information site. Real people with real stories can stay connected long after their vacation time has come and gone. The gentle beauty of Sanibel just seems to encourage friendships between visitors from around the world. Local businesses and residents are included in the sense of community that this sociable blog offers, and everyone is encouraged to send in their own comments and memories captured by photos. Occasional contests add to the excitement of sharing this island retreat with friendly people who want to have fun.
Ocean's Reach is a luxury beachfront condominium resort in the center of Sanibel Island offering 1 and 2 bedroom units within steps of the beautiful white beaches of the Gulf of Mexico. Prices, availability, and special package information is all available through the website.
Contact:
Ocean's Reach
2230 Camino del Mar
Sanibel Island, FL 33957
Ph: 800-336-6722